G-Eazy has been on a tear in the hip-hop scene as of late, but even before his recent time in the limelight, he was making power moves on the fashion front. Establishing himself with a contrasting image than the competition during his rise to fame, G-Eazy's timeless style has become a fashion paradigm. Therefore this month is all about paying homage to the new kings of cool.
For G-Eazy, music will always be the priority, but he still certainly recognizes that fashion is closely intertwined, having an assortment of obvious clothing and footwear references in many of his hit tracks that point out his affinity for both. Beyond his path to becoming a renowned artist, Gerald Gillum has since solidified himself as a style icon. It's not just the fact that he has a cool and timeless image, but it's the way he is able to stand out amongst other artists of his genre by establishing his own image that's since been copied again and again.
If there's one term to describe G-Eazy's style, it would be a modern-day version of Johnny Cash. It's elegant, minimalist, and LA cool.
Keep it Easy
What do you wanna bet that it probably takes G-Eazy less than 10 minutes to get ready in the morning? It's probably not far from the truth because the Bay Area native has shown the world that his wardrobe is chalk-full of simple essentials, mostly of all-black or slightly varying monochromatic hues. A master of the basics, G-Eazy's footwear rotation mainly consists of the classics: Vans Old Skools, Comme des Garçons Converse CT 70s, adidas Gazelles and more that make his wardrobe look like it entails an abundance of heavy hitting combos.
If you don't want to go blow $750 on black Saint Laurent jeans, you can get another G-Eazy approved look that also sticks to the classics by picking up some skinny Acne Studios or APC jeans – both of which also exists in Gerald's wardrobe. And with plenty of wear, you might be able to mirror the jaw-dropping fades that G gets while he's on tour. Focusing on timeless fits and pieces that have stood the test of time, like leather jackets and denim jackets are each investment pieces, but with proper care will save you less time having to re-evaluate your wardrobe.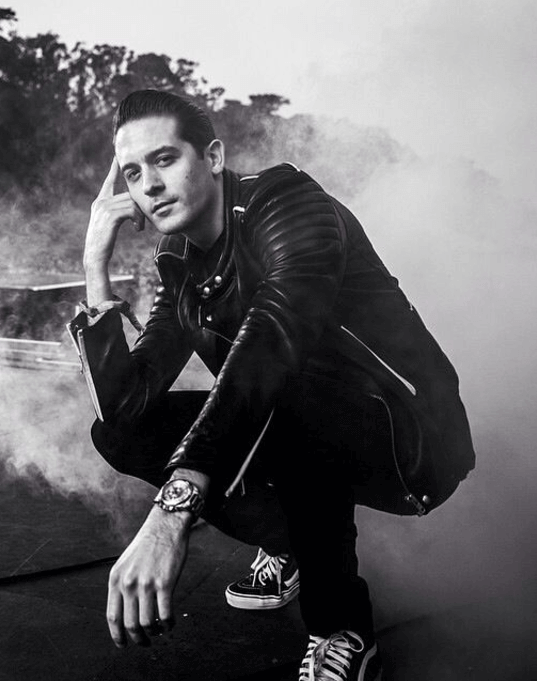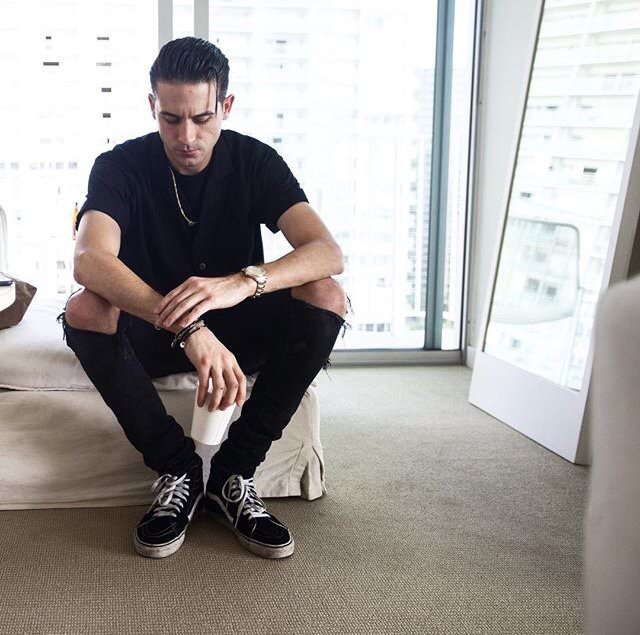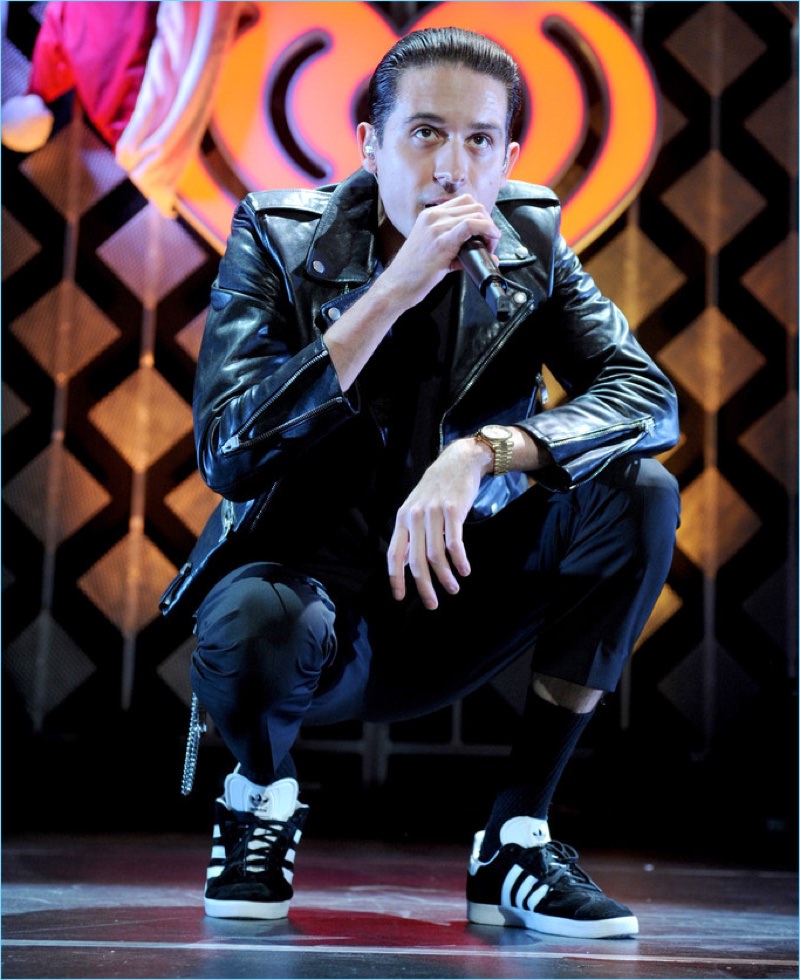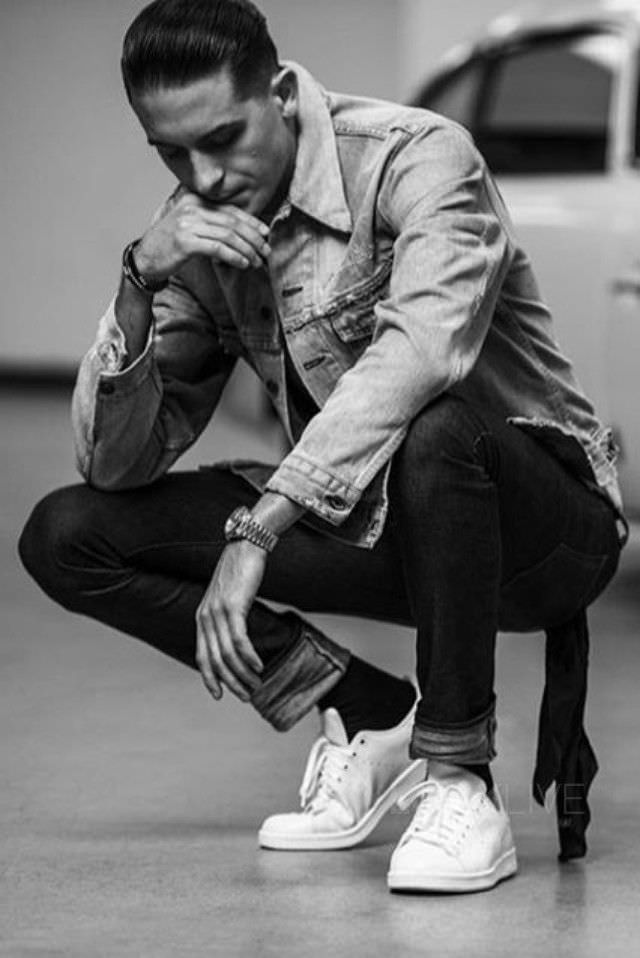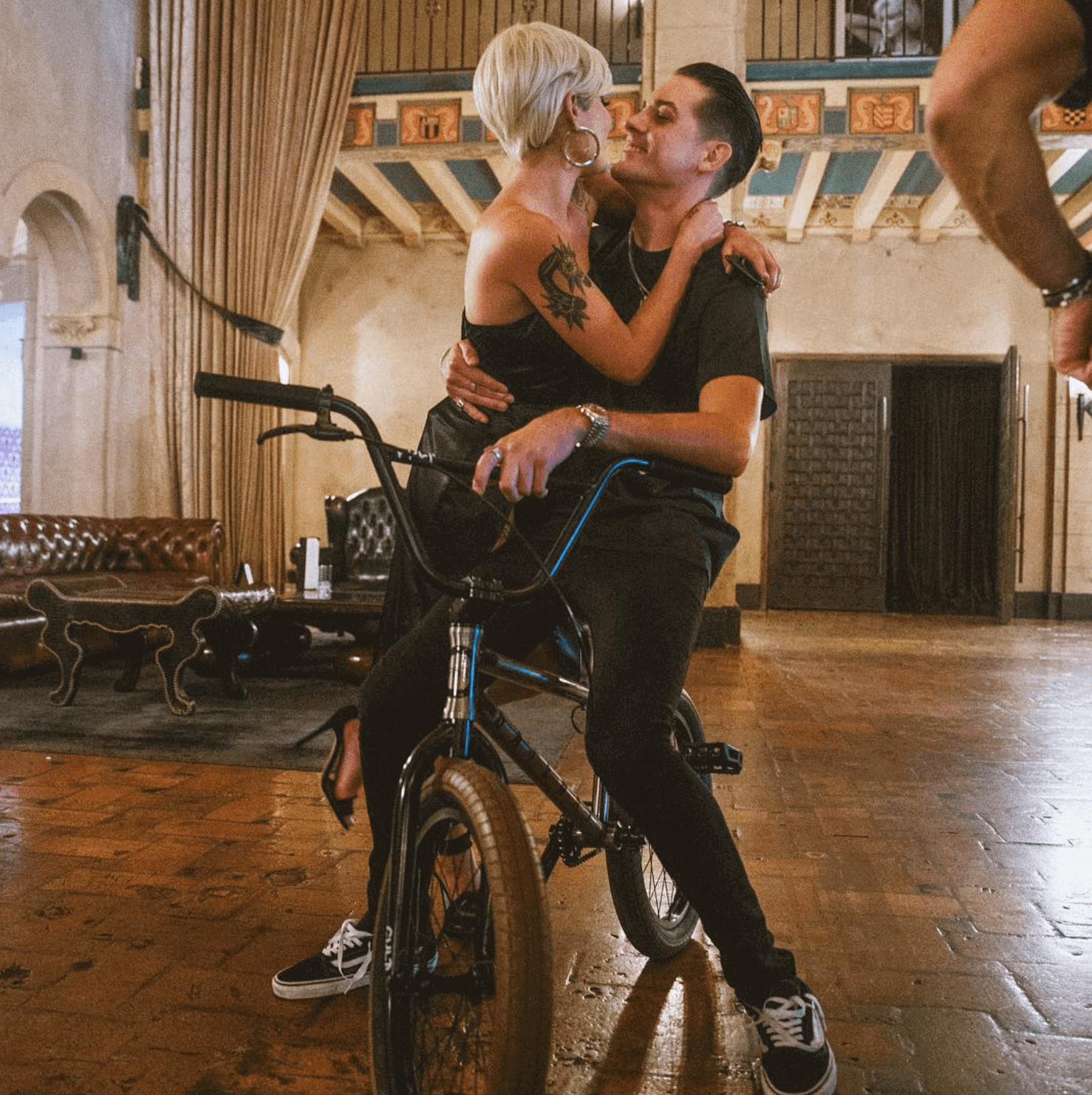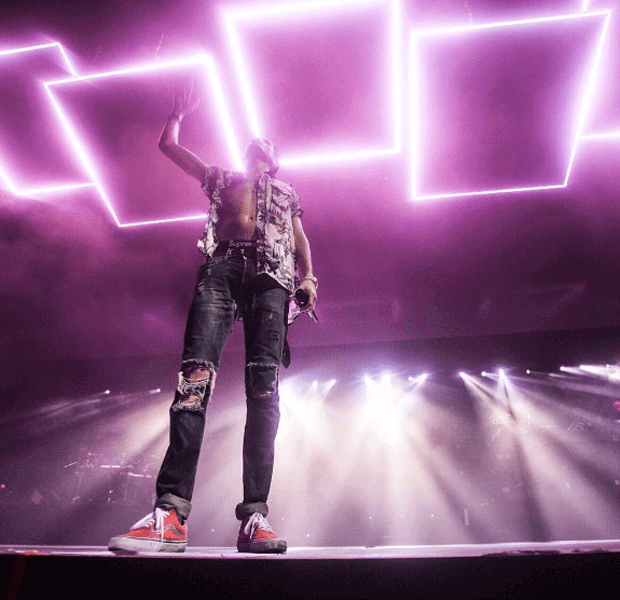 Packing Heat
G-Eazy is a sneakerhead in the truest sense. While he pulls off all the essentials with ease, the pendulum also swings the other way when he'll bust Jordan 1s, a range of Yeezy 1 and 2s, Bred Jordan 4s, and Supreme AF1s. Even if he's veering away from the traditional basic footwear options, G-Eazy still ensures that these more hyped options are cohesive with the rest of his wardrobe.
When you find an item of fashion that you like, it makes more sense to find other ways that you can re-work the idea into other outfits instead of going "trend shopping" and just buying everything that "trend experts" say are in. It's far superior to come dressed in a unique and consistent look, as opposed to arriving in costume every day. For G-Eazy that's his signature black jeans and an array of either varsity jackets, bombers, or leather jackets. If anything, his look can be summed up as mid-century made modern with a stacked footwear collection.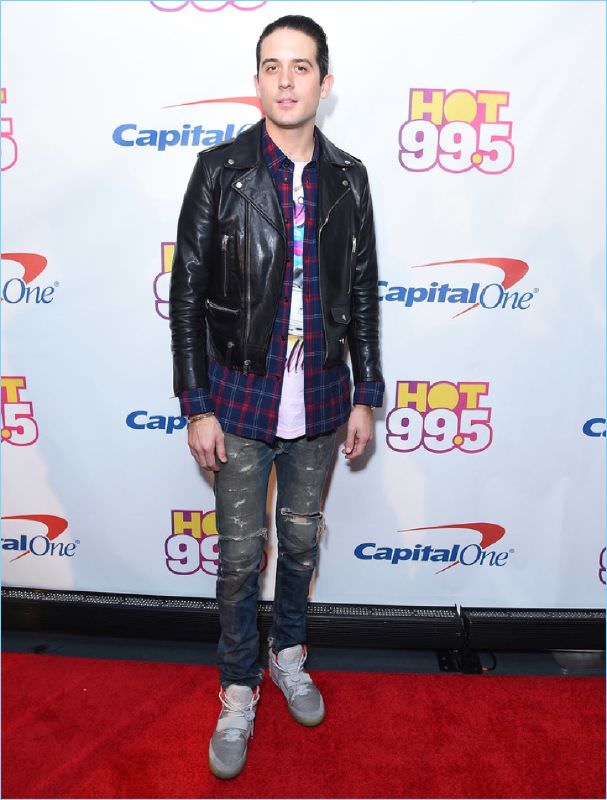 Commonly Uncommon
Borrowing from Johnny Cash's all-black attire, G-Eazy has established a uniform of his own that has drawn the attention of the entire fashion community. Notorious for wearing brands like Saint Laurent, he can commonly be seen wearing the label's iconic leather jackets paired with their classic black skinny jeans and distressed tennis shoes. Aside from YSL sneakers, G-Eazy has also separated himself from the pack by wearing the brand's classic Chelsea boots, which caught on with Saint Laurent's offerings during Hedi Slimane's tenure. For Gerald, he knows that blending in with the rest certainly isn't the way to stand out, which is why he resorted to putting an image together that's classic and timeless – literally wearing almost the same thing day in and day out.
G-Eazy also recognizes what's cool before everyone else does. A prime example would be recognizing the goodness that the Common Projects Achilles offers right from its intro to the market. Also a clear minimalist essential, this sneakers go with every outfit imaginable and is one of those styles that actually looks better the more it gets worn – especially all black.