With inspiration just a scroll away on Instagram, it's quite simple to tell which celebrities and influencers have an eclectic fashion taste. And while it may seem like an art form that you've got down to a science, what are the odds that your significant other's style equals your own? This week, we've compiled the varied styles of celebrities (currently together or that used to be together) who both excel at street style.
This selection of celebrity couples focuses on the style of then and now, showing the evolution of how much fashion has transformed in just a short time frame. Though the fashion choices of all these tastemakers could still be worn now and not look a stitch out of place, the difference in silhouette, color, and fit is stark in comparison. So who are the celebrity couples today and ten years ago that complement each other's style so well?
Justin Bieber and Hailey Baldwin
After reconnecting just over a month ago, Justin Bieber and Haley Baldwin have decided to get married. And whether or not all their other similarities and life goals add up or not, their style sure does. In the past couple of years, their style has gone from good to how did you even get your hands on those brands? Oversized jackets, track pants, and plenty of loose fitting sweats, the couple is making the essentials look anything but basic. And what's more is that their current style rotation seems to complement each other so well, especially when they're out and about together.
His Style
Right after his Purpose album released back in 2015, there was something different about Justin Bieber, particularly his style. And there would be a major shift in his wardrobe when Fear of God announced they would be making all of Bieber's tour merch apparel. Suddenly, destroyed jeans, cut-off flannels, elongated tees and a rotation between Vans and Ultra Boosts would be the look of LA. We'd eventually see street style savants like Scott Disick, Russell Westbrook, and Kanye adopt the look.
In more recent months, however, Bieber's look has slightly evolved while maintaining his LA influence, having been seen wearing AMIRI jeans, vibrant Supreme hoodies, and an array of Yeezys – especially the Desert Rat 500.
Her Style
Hailey Baldwin's style as of late has officially adopted the boyfriend look. And that's a good thing because she has one who she's also engaged to. This look has entailed anything oversized, especially jackets, sweatshirts, and even oversized flannels.
HB has appeared in numerous adidas ads, so it would make sense why her go-to footwear choices have been the Yeezy 700s and adidas Continentals and Stan Smith. The Yeezys allow for a simple option that pairs with loose essentials, like sweats and tees, while the Continental and Stan Smiths go with anything from dresses to cropped jeans and everything in between, thanks to their low-profile designs and neutral colorways.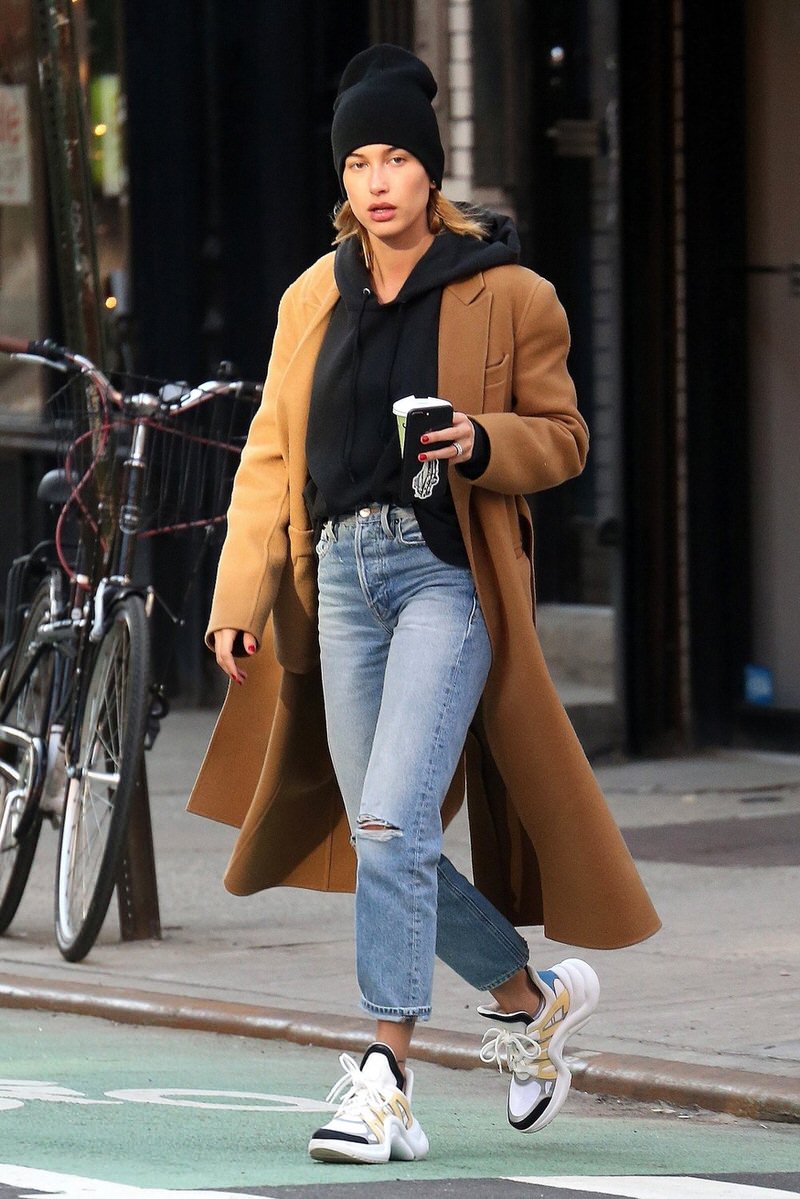 Ben Simmons and Kendall Jenner
Officially dating? Not officially dating? No comment, but what is official is the fact that Kendall Jenner and Ben Simmons have really good style.
His Style
Ben Simmons' style is the definition of simplicity, usually incorporating some iteration of the upscale athleisure look into his wardrobe. Simmons elevates the sweats and tee combo by upgrading his look with tailored Gucci joggers and fitted tees that are enhanced with OFF-WHITE Air Force 1s. He's also got the minimal layering look down to a tee by his usual pairings of dark slim jeans with premium flannels and Converse CT 70s.
Her Style
Not only is she one of the most well-known models in the world right now, Kendall Jenner is also making a name for her sense of street style. She's been on a bit of a 90's kick as of late, wearing yoga pants with graphic tees. Beyond that, she's also embracing the trend of cycling shorts with 90's inspired runners. Her casual style also embraces the LA look from several decades ago that's now come full-circle, consisting of loose-fitting jeans, crop tops, oversized crewnecks. And having close ties with Yeezy, you know her footwear game consists of A LOT of adidas. Aside from the Three Stripes, there's plenty of other 90's inspiration in her footwear rotation, like Vans Old Skools and chunky Balenciaga runners.
Kanye West and Amber Rose
Back to the days of Pastelle, Bape, and even a Nike deal, Kanye West was dating Amber Rose when their sneaker rotations were unparalleled. Before splitting almost a decade ago, the duo could constantly be seen out in public with the most heat for that particular era. Kanye was pioneering the fashion world beyond everyday sneaker brands and exploring the world of luxury that has now become a mainstay.
His Style
Revisiting a time where every night was Louis Vuitton Don night, Kanye had broken into the luxury fashion scene with a Louis Vuitton deal. Not only could he be spotted wearing some of the most iconic pieces to have ever released from the brand, he also had several of his own shoes with the LV label, known as the Don and the Jasper, which have released in colorways that have appeared on the resale market, reaching north of five figures.
Near the same time as the Louis Vuttion partnership, his influence landed him his own deal with the Swoosh, where his signature sneakers would also become some of the most coveted to ever hit the footwear market. Soon after this deal came into place, he would form another partnership with minimalist fashion label A.P.C., where he would again find himself designing some of the most iconic pieces to hit the streetwear scene. This would only become the beginning of "The Kanye Effect" that would eventually follow suit.
Her Style
Much like Kanye, Amber Rose's style at the time was also very minimal, making it easy for her footwear rotation, usually consisting of Jordans to pop. Whether that be black yoga pants and a leather jacket, it's pairings like these that set up the perfect pairing to incorporate "Black Cement" Jordan 3s into the mix. And at the time, she had also been seen matching Kanye's footwear choice on several occasions. Even if it wasn't the same shoe, it begs the question of if Ye was curating Amber Rose's style like he is with Kim.