With his new album that just released, A$AP Rocky has become one of the most multi-faceted artists in hip-hop and deemed by many as a full-fledged style icon. Whatever's next on the fashion horizon, Rocky's usually one of the first to have his finger on the pulse. It's also important to mention that Rocky isn't just one thing. Wearing brands at the top-tier fashion house level and swinging the complete opposite direction with the most hyped streetwear essentials, the guy does it all.
Gaining traction on the scene in 2011, Rocky became one of the most notorious artists to be excelling in both his music and fashion endeavors. Having multiple collaborations with GUESS, appearing in Dior and Calvin Klein ads, the artist is now getting his own signature shoe with Under Armour. As typically associated with being on the forefront of trends, could this be another time that his chunky skate shoe look-alike is leading the charge in fashion? Guessing that brands like DC and Vans are bringing back these sorts of style in their own lines, there's a good chance that the previous statement holds some validity.
Color Pop
Whether it's staying mostly uniform and letting your footwear take the spotlight or wearing the loudest colors out there, it's one of those tactics that just about sums up Rocky's bread and butter styling components. Even if it's just wearing a white t-shirt with black skinny jeans, sporting a pair of 1985 "Chicago" Air Jordan 1s are an easy way to create some stark contrast to your look, while also earning major credibility as an actual collector. And then there's going the extreme opposite, like those times when Rocky's repping all red Balenciaga pants and jacket with a bright orange Calvin Klein jacket underneath and VLONE Air Force 1 Mids to match.
Another one of Rocky's easy hacks is to wear something neutral, like light wash jeans, while a plaid shirt with tons of color off-sets the toned down look to turn heads. The easiest part about it is that your Js just have to have one of those colors in order for you to pull the fit off. And while he is known for also having a black on black uniform, he can just as easily transition into incorporating a lot of color and make it look like the norm.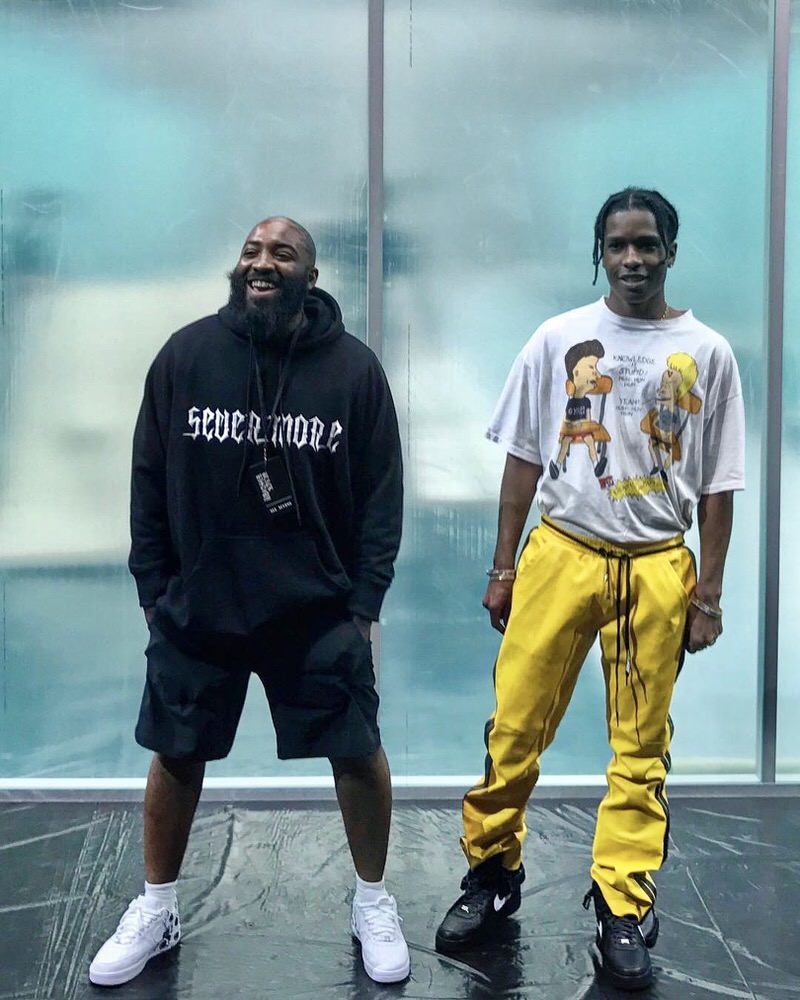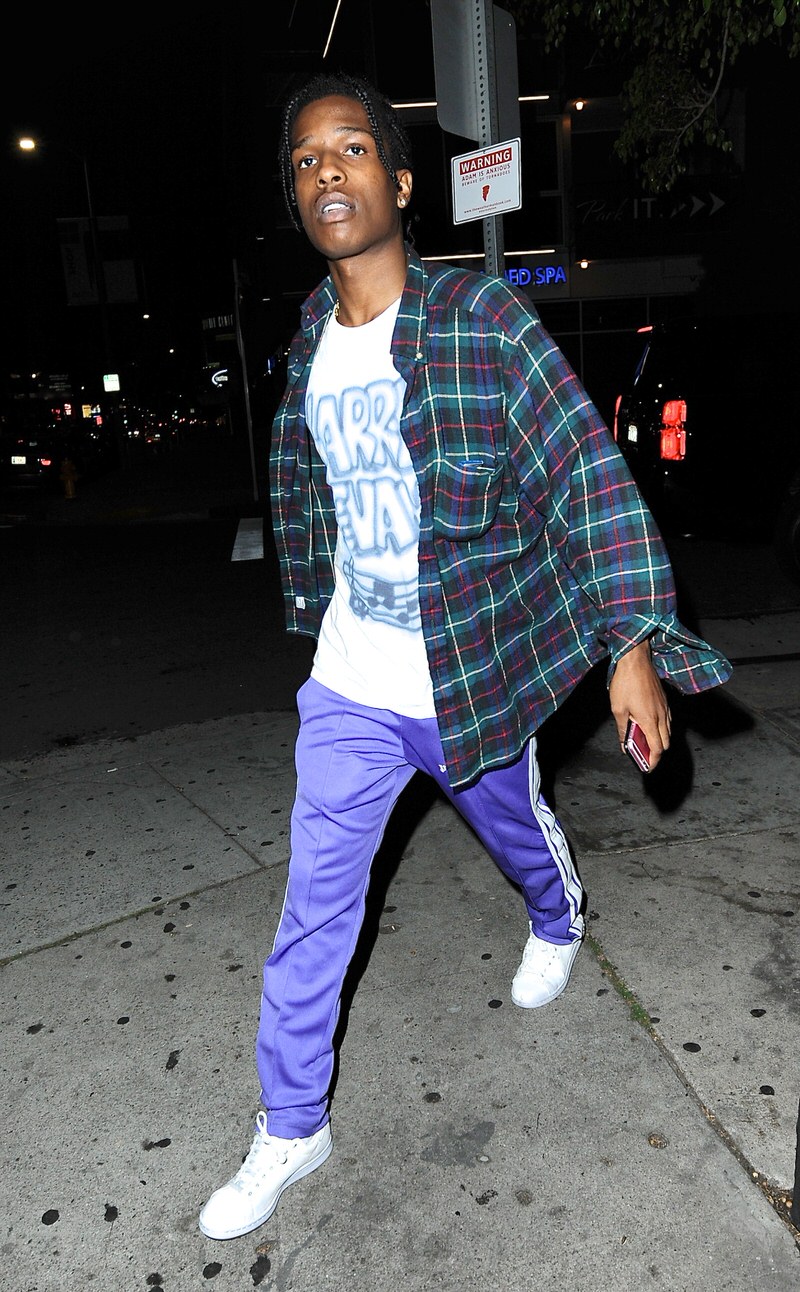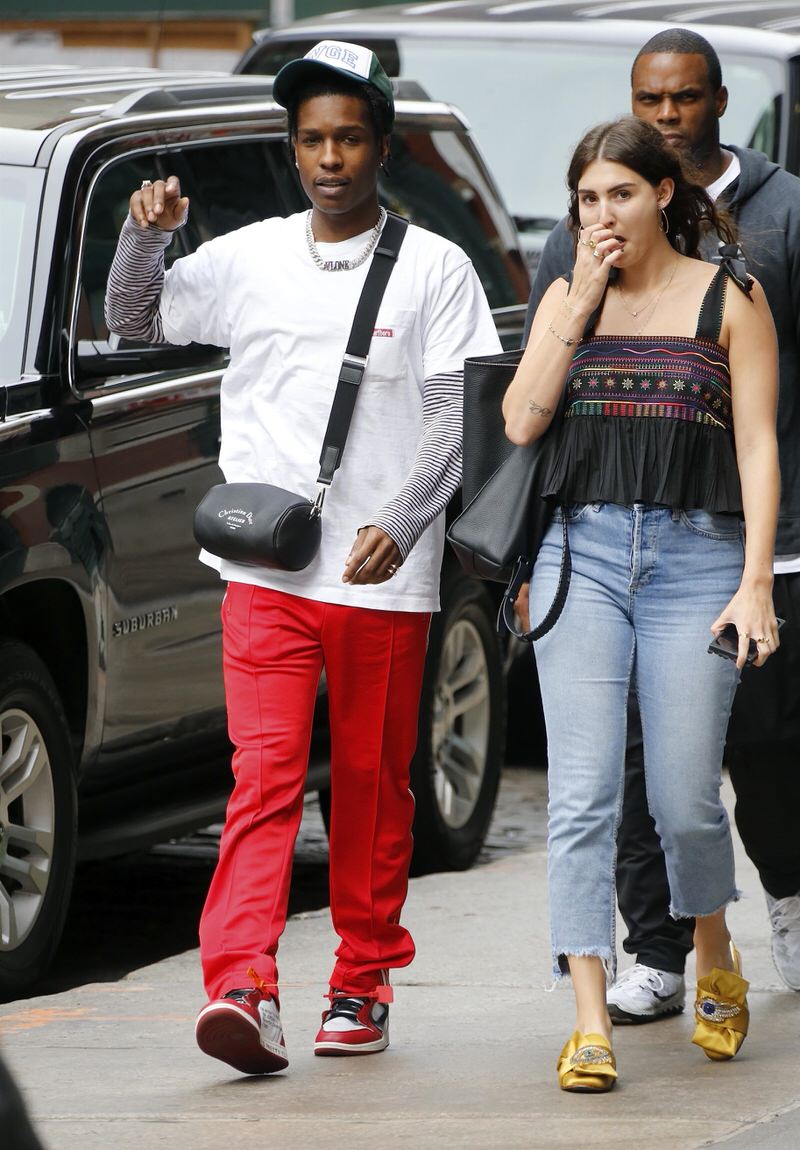 Exaggerate the Exaggerated
Patterns and colors, size and fit, A$AP Rocky is definitely on board with the exaggeration wave that's everywhere in fashion right now. Doesn't matter if it's handwriting on jeans or oversized cropped trousers, Rocky can turn any of them into his own personalized look. Fur coats and loose-fitting chinos with suspenders don't necessarily go together, but if you throw some VLONE Air Force 1s in their to round things out, you've got yourself a Rocky approved wardrobe.
Floral on floral might seem a little overpowering, but that's essentially Gucci's mantra. A$AP Rocky takes silhouettes like Gucci's floral embroidered denim and an all-over flower shirt and neutralizes them with a pair of easy-going classics like the iconic Stan Smith. If you heard the brand name GUESS ten years ago, you would've questioned, "Is this the 90s (not in a good way)?" Now though, you want everything to do with it just because of Rocky's affiliation. With a series of collaborations, they're filled with sought-after tees and simple denim jackets, like the one he's got on in the photos below.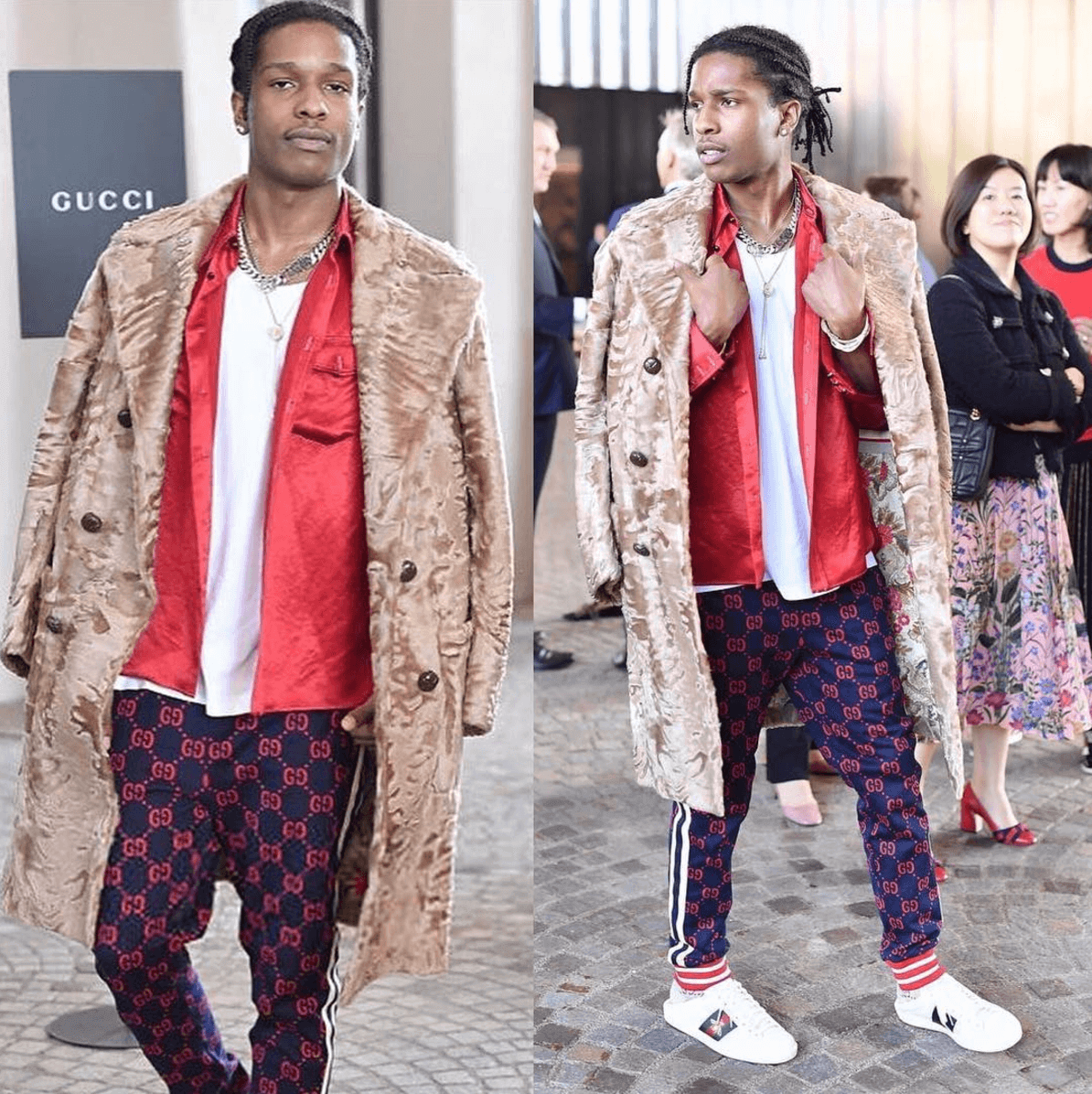 Fashion Killa
Like his infamous song "Fashion Killa," A$AP Rocky strives to always live up to its renowned lyrics. Rationalizing the fact that sneakers can, in fact, be worn with high-end silhouettes, he's also rationalizing that he can make luxury sneakers stand out too. One of the pioneers in the celebrity space to draw attention to Balenciaga's sneaker range, Rocky has been seen wearing many of the brand's chunky sneakers. A true Gucci aficionado, it's obvious that the hip-hop artist incorporates a series of the house label's playful and eye-catching designs into his rotation. And yes this consists of an array of Gucci Aces to match.
Even when he's looking to go extra casual, he taps Gosha Rubchinskiy essentials like their tailored fitting sweats and sweatshirt to go for a look that says uniform, while staying affluent. Again, Rocky's probably also responsible for putting a significant amount of the brand's clientele onto them in the first place. Rocky also breaks the rules of fashion over and over without making his looks seem like there was a rule there in the first place. If he wants to wear all one color, fine. There's a tone that appears throughout every garment, even better. If anything, Rocky's probably rewriting the rules as we speak.