We're mid-way through Wimbledon and who better to feature for What's In Their Wardrobe? than one of the Grand Slam's icons that not only won it, but also refused to play in it during the early part of his career.
This week, we're celebrating the style status and legacy of Andre Agassi. Challenging the norms of traditional tennis culture with his cut-off jeans, long bleached hair, and always loudly colored attire, Agassi was practically the first soul to make tennis cool. And it began to take shape by channeling his punk personality into his signature tennis footwear that was rock 'n' roll approved.
So many of his signature Nikes have become a pivotal reference point for other silhouettes that would emerge long after his playing days – most notably the stance and tooling of the Nike Air Yeezy 2. How could an actual tennis shoe that was more than 20 years old spark that much of an influence to incorporate into another style that would become one of the most sought after releases ever? It started from the notion of style. Style from a true creator who challenged the status quo, inspiring the realms of fashion, rock music, and youth alike.
Challenge Tradition
Wimbledon requires every competitor in the tournament to wear all white. It's been a tradition since it was founded back in 1877. From 1988-90, Agassi skipped Wimbledon, due to his sour taste of the sophisticated environment, playing on grass, and having to wear all-white attire. Choosing to abandon a tradition that's stood for over 100 years due to a dress code is the definition of a style rebel. It was only a year after that he would go on to play it and another after where he would go on to win it. For Agassi, the early years of his career weren't about function at all. They were all about how you looked while winning. And this is the exact attitude that went into the manifestation of some of the most iconic silhouettes (fashion and footwear) that Nike has ever produced. And it's also a medium that many of today's top fashion designers are using to create their collections currently.
Up until the late '80s and early '90s, white was really the primary color that tennis players wore even outside of Wimbledon. Even if it was the norm and the intended dress code, it still wasn't enough to keep Agassi's punk persona from shining through. Just like pioneering the two-handed backhand, it was this same attitude that was incorporated into building his own style: different, but effective. Pretty soon the competition started to follow suit.
The early days of his career had him ditching the all-white tennis shorts for cutoff jeans or acid wash shorts. And before the days of his signature shoes, his timeless taste for style was revealed once again, gravitating towards another classic known as the Air Trainer 1.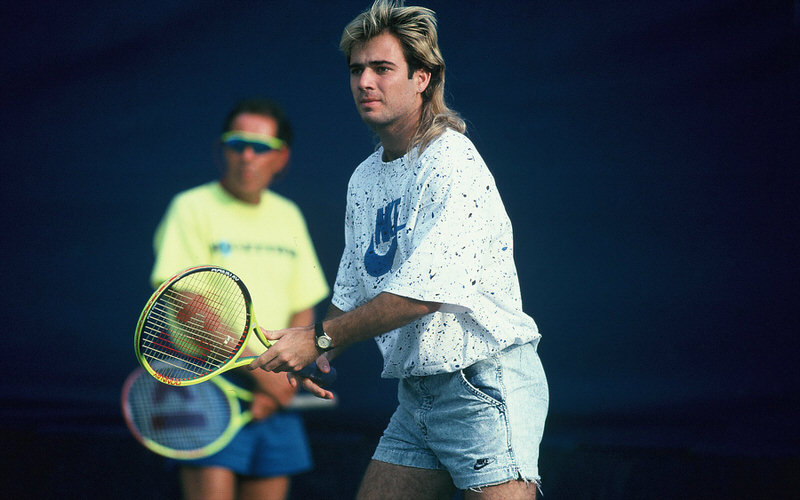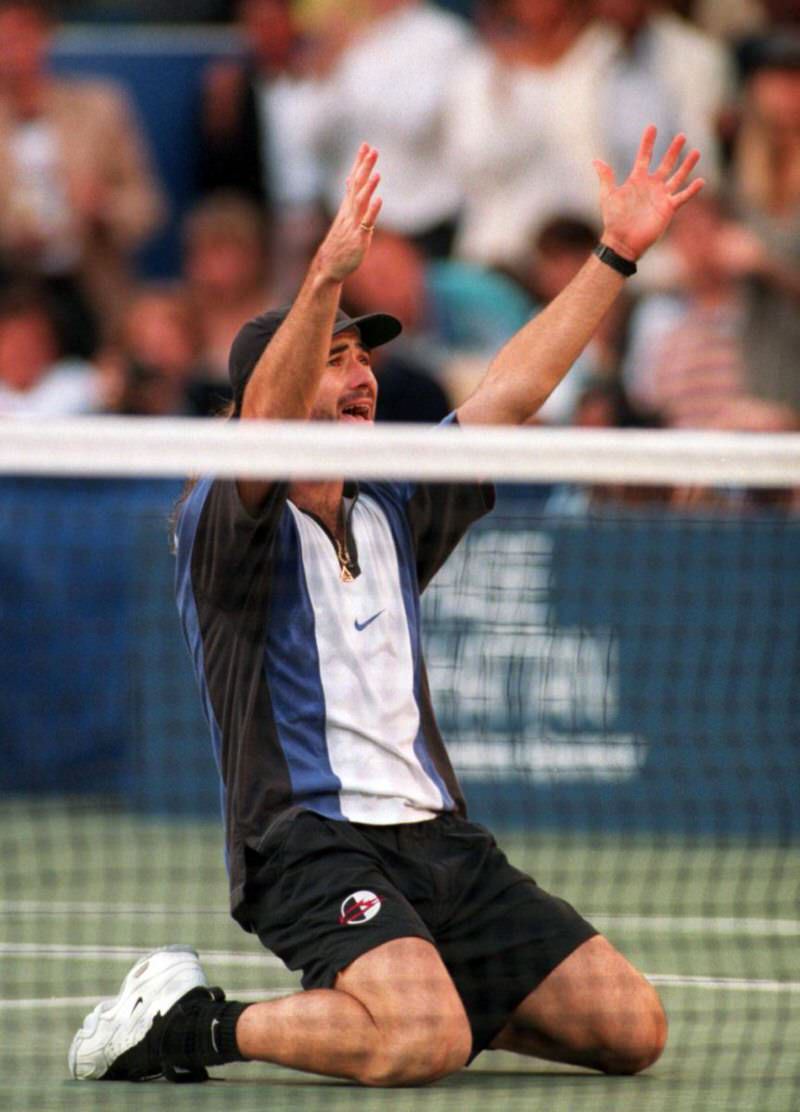 As Loud as You Can
Nike's ad for Agassi's Air Tech Challenge III pretty much sums up his style on court, "Hit the ball as loud as you can." This same ad was also part of the early '90s Nike commercial that showcased Agassi wearing his third signature shoe with the vibrant yellow and blue accents, while Red Hot Chili Peppers band members sit in the linesman chairs. Most brands might've shied away from his edgy image, but Nike not only embraced it, they made it the look that everyone had to have whether they played tennis or not. After a series of their commercials with this same youthful persona featuring the exotic footwear and clothing styles, Agassi's nature would continue to shine through.
Ending one of his Nike commercials with the phrase "That oughtta wake up the country club," this not only made his image cool and different, but also believable. Suddenly, his influence of style was being projected beyond tennis and into a lifestyle. Outside of Jordan, there weren't many patterns that generated the same head-turning appeal until the birth of the original Air Tech Challenge. It was the "Hot Lava" design that not only matched Agassi's personality, but also the punk edge of many teens in '90s America. It would not only become a statement against tradition, but a wake-up call for tennis.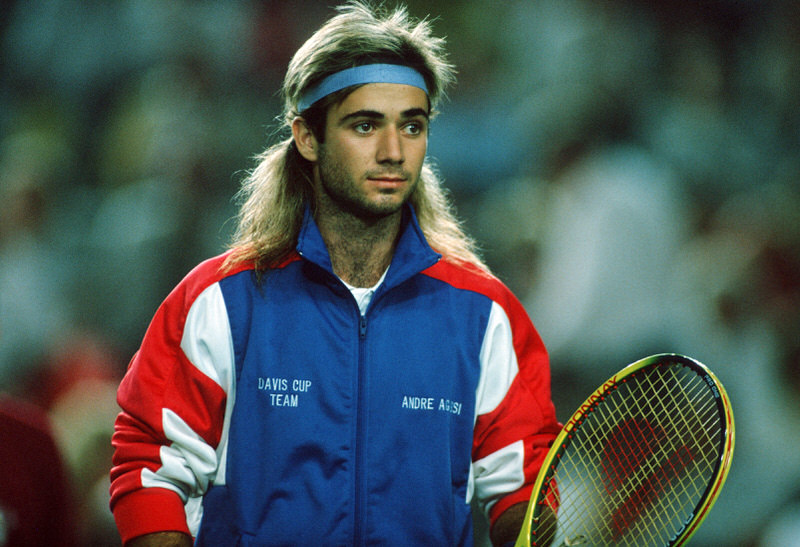 The Ads that are Chalk-Full of Inspiration and 90s Sportswear
Standout style and the perfect pitch man.