Despite being virtually invisible in terms of social media over the past few years, Frank Ocean has officially made his Instagram profile public to the masses, where he's not only sampling new soundbites from songs he's working on, but he's also showing the world just how impressive his style really is.
Even before the prevalence of social media, Frank Ocean has always been one of those icons who seems to be either predicting what trends will hit next or wearing something completely the opposite of what's trending, while of course making it seem even more inspiring.
Initially making his style presence known after debuting his mixtape nostalgia, ULTRA in 2011 and his first full-length album, channel ORANGE in 2012, Frank Ocean also started turning the heads of streetwear and sneaker aficionados alike. And he was doing it with such simplicity that every feature of Celebrity Sneaker Stalker that included the R&B singer seemed like an inspiration for what was cool and what was going to be.
channel your Inner Nostalgia
Some of the coveted streetwear pieces that Frank Ocean has worn over the years seem nostalgic and desired now, but in a way, they also did even when we were seeing him sport coveted essentials, like the POLO Snow Beach Jacket, Supreme Nike SB Dunks, and even Rick Owens Basket sneakers.
Back in the early 2010s, when the raw denim craze hit, Frank was right at the front when it came to demonstrating just how well A.P.C. jeans would fade over time and what kicks paired well with them. He was also ahead of the Supreme demand too, along with Vans Old Skools, which he has worn in almost every single colorway, while practically leading the charge for investing in high-demand apparel pieces over weekly sneaker drops – showing that just a few neutral shoes in one's rotation would make this manageable.
Clashing prints, patterns, and colors that don't go together pretty much seem like a no-brainer today, but nearly ten years ago, most everyone would've questioned this rationale. Everyone, but Frank Ocean, who seemed to make pairing plaid shorts with polka-dot shirts and Nike SB Dunk Lows seem like a revolutionary style hack.
Even before it was really considered acceptable to wear sneakers with a suit, he was making it seem mainstream by pairing them with a pair of Vans or Jordan 1s. And though Frank Ocean might not be a top sneakerhead, he certainly understands the value of putting iconic silhouettes with standout apparel pieces to form a timeless wardrobe.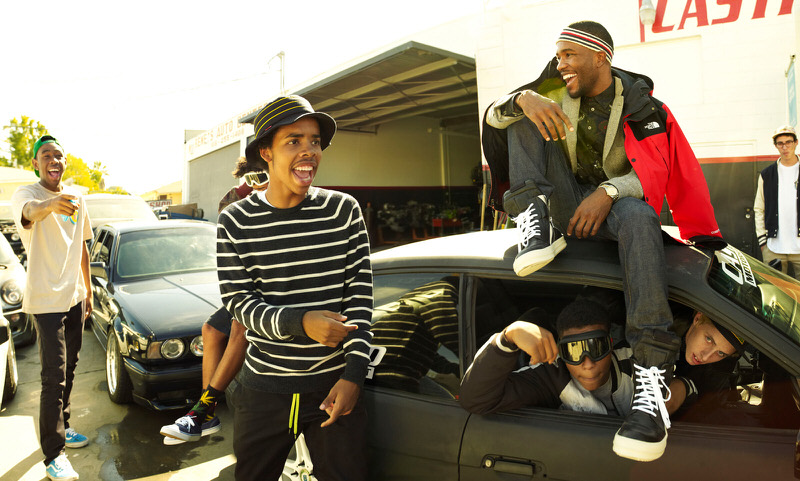 Minimalism in a Maximalist World
Frank Ocean's style still mirrors the essence of what it was almost ten years ago. After all, it is that timeless. But he's adopted that same personality to his styling approach and this time he's directed his antagonistic styling inspiration towards the maximalists. He's commonly seen wearing thrashed A.P.C.'s with oversized hoodies with Vans and Vetements sweatshirts and he's still wearing relatively simple silhouettes, but this time around, his wardrobe has a bit of a Parisian essence to it. Simple, yet elegant. Flashy, but not gaudy.
According to his Instagram account that just recently went public, Frank's been showcasing his regular wearing of Waffle Racers and even a never-before-seen rendition of the Mars Yards in a black, white, and red color scheme. He's been wearing plenty of graphic tees, light-hued cargo pants and vibrant pops of colors in his layering – but pairing them with fitted styles, as opposed to the oversized look that's become so prevalent in fashion.