Amin Elhassan experienced an upbringing like few others with a similar love for basketball and sneakers.
Born in Sudan, as an infant Amin moved to New York City with his parents. He then ventured back to Sudan at the age of eight, staying there until he was 14 before moving back to New York.
His family wasn't one of means. So, whether he was entrenched in the cultural density of New York City, or the vastly rural, elemental economy that makes Sudan one of the most impoverished countries in the world, Elhassan's access to sneakers, or lack thereof, often times made no difference.
"I remember the first time I saw the Jordan 8s [in Sudan] and it blew my mind," Elhassan fondly recalls. "I was like wait — there's a strap? And then there's another strap?!? But that was something that you only saw from grainy videotapes of NBA Superstars Vol. II or something like that."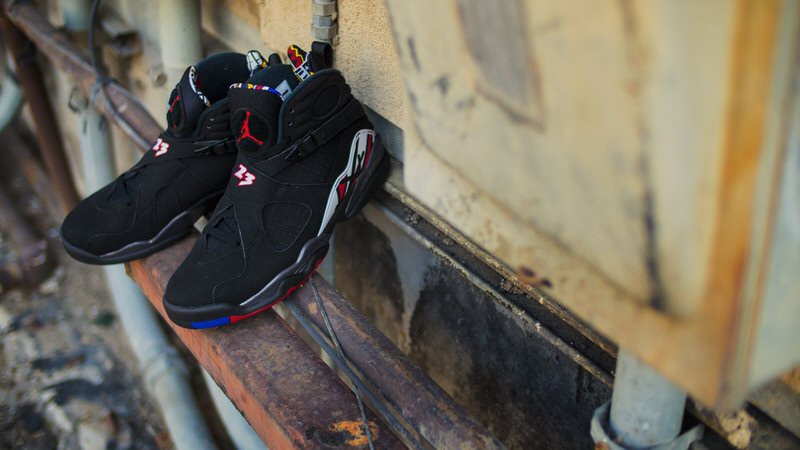 Elhassan would have friends of greater financial means travel from Sudan to more developed countries and come back with Jordans and other popular sneakers. That's how he'd often see things firsthand. As for the sneakers on his own feet, well, that was a greater challenge.
"I can remember asking my dad for some Converse. Just standard black and white Converse All Stars. My dad was like, Not a chance. So there was a lot of seeing but not actually having. Then, when we moved back [to New York City], it was the same thing. It was like if you want some sneakers you better hit up that clearance rack. It was the clearance rack life." Elhassan can certainly laugh about those moments now, but at the time, his sneaker struggle was very real. "I'd have one pair. That would be the shoe that you're going to play basketball in, to go school in, run track in — it was the all-purpose shoe. I actually ran track in my basketball sneakers."
Elhassan was an athlete with a deep love for basketball, yet shaping a career around that passion didn't seem feasible. He was a talented student with a penchant for math and science, so he took to Georgia Tech University to pursue an engineering degree. But as college and new surroundings often shape new thoughts, Amin began to see a life for himself in the sport he had loved. He soon after secured a job with the Atlanta Hawks, working as a lowly field marketer. Elhassan, though, could care less where he then ranked on the totem pole. His foot was in the door. He was one step closer to a dream realized. Things would only pick up from there.
Elhassan was promoted to game-day operations with the Hawks, a role he mastered for three seasons. He then ventured back to NYC to intern in basketball operations for the New York Knicks during the 2004-05 season. His biggest opportunity came next via an internship with the Phoenix Suns. Elhassan quickly became the team's video coordinator, then its scouting coordinator, followed by a role as the team's assistant director of basketball operations. He worked directly under the team's then GM, Steve Kerr.
Amin wasn't done. His final act — or at least the one that brings us to modern-day — is a multihyphenate role at ESPN where he began in December 2013. As a writer, analyst, and on-air personality, Elhassan put his basketball expertise and industry experience together in his biggest role yet. Sneakers remained a big part of his life during those upstart years. "That Knicks team in 04-05 had a great sneaker locker room. Tim Thomas was a stylish guy. Mo' Taylor was in that locker room. Marbury, obviously, at that point had started to transition into the Starbury thing. You had some crazy sneakers on that team."
Elhassan's time in Phoenix gave him early access to P.J. Tucker, whom many of us know to be the Kicks on Court king. "I wasn't there as much towards the end in Phoenix, but P.J. is obviously the guy. P.J. Tucker was a big time sneakerhead and collector before he was making millions — when he was a minimum contract guy. The other thing about P.J. is — other than maybe Gilbert Arenas — he was the guy to take the shoes people take their whole lives to find (or only wear once a year) and go play basketball in them."
Although Elhassan didn't have much in terms of heat growing up, he'd make up for it later. Now that his access is much more substantial, some of what he wears are things he always wanted and others are solely based on his self-proclaimed minimalistic approach to style. He confesses a deep love for the Air Jordan 11 "Gamma Blue." On the opposite end of the spectrum, Amin holds a special place for the adidas Rod Laver.
His My 5 contends as one of the more well-rounded assortments, similar to his bare-bones yet well-verse commentary on all things basketball. Check it out below.
Air Jordan 4 White/Cement
Elhassan: This was the original Jordan shoe that I wanted that was just out of the question. The funny thing is when I was working for the Suns, they released them with the Jumpman on the back. I was trying hard to get a pair. I remember Josh Childress was another guy with an incredible sneaker collection. I was like, Josh, you gotta hook me up! Josh you gotta take care of your boy! Never happened! I thought I was never going to get these shoes. Then when they came back out two years ago I got two pairs.
I have one pair that I just ran through. I wore them everywhere. I wore them to the Finals that year. Now they look like an original pair from '89 now! Then I have the other pair that I keep in LA at the studio that I just wear on set.
adidas NMD Black/Grey
Elahassan: This is the first pair of casual adidas I've owned in quite possibly a decade. I'm a guy that normally doesn't like a lot of crazy colors. I'm black, grey, white, and maybe little hints or reflections of red, blue, etc. I got these because I have lots of friends who swear by the comfort. I was always kind of like, Ehh come on… but I got them and I thought, Those guys aren't lying. I travel a lot obviously. I'm on planes for long periods of time, walking through airports. I just need a shoe that's going to give my feet a nice rest.
Air Jordan 11 "72-10"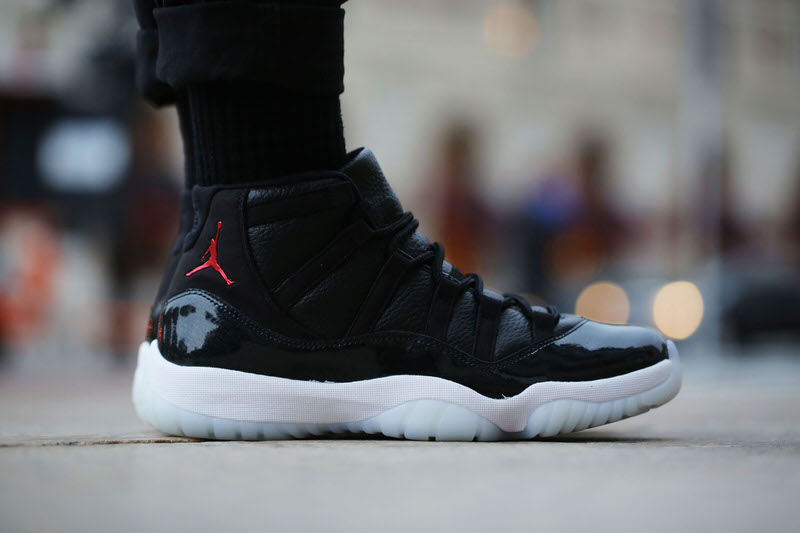 Elhassan: I love this shoe but it's not the most comfortable shoe. You need an orthotic to wear them. It's a beautiful shoe and it looks good on me and that's why I have them, but if I'm on my feet for a while, yeah, my feet are complaining. But, again, I love the shoe! The Air Jordan 11 is the coolest visual shoe ever. I'd also love to have the original "Cool Grey" 11s.
Nike Air Max 1 Ultra Flyknit
Elhassan: These were released in 2016 around the Olympics. They were unofficially the US colorway. Air Max 1s were a shoe that when I was a kid [in Sudan] I saw kids come back with them on and I'd say, Man those shoes are cool! And my dad would be like, Ahh, yeah, those shoes are expensive. It's all the look I appreciate from the original shoe combined with something so comfortable and light. It's just a great shoe. In many ways now I wish I'd gotten another pair just to have a counter.
Air Jordan 1 "Los Primeros"
Elhassan: I have this ostentatious jacket that I bought that I've worn on air that a lot of people have made jokes about. It's very out of my comfort zone but I bought it to wear during All-Star Weekend. So, I needed a pair of shoes to go with this ridiculous jacket. I saw these and they were perfect. They're black but then the tongue and toebox have this real intricate pink design. It's really just a beautiful shoe to look at. And, when wearing a ridiculous pink floral jacket, it makes for a great outfit. So I got them and they're pretty comfortable.
*****
Among Elhassan's many duties at ESPN, his regularity on The Jump, working alongside Rachael Nichols and the likes of Tracy McGrady, Byron Scott and Stephen Jackson, are among his favorite moments with the network. "It's a great experience to work with great people. Rachael Nichols is one of, if not the best, hosts out there. She does a very good job of reading the conversation of the room and being comfortable in redirecting. She's also very well connected which gives us all credibility." The praise continues for the rest of his cast.
"Stephen Jackson is one of my favorite guys to work with. We're around the same age and have a similar sense of humor. He's a guy that I never got to work with in the league but I'd always heard about what a great teammate he was. I never really understood it until I worked with him. He genuinely cares about the people he works with in the studio, with the production staff, and with us. I really enjoy working with him probably the most. The show's going to be great but we also know that we might get canceled! We tow the line but it's all fun."
Amin Elhassan is a regular on ESPN's The Jump airing on Wednesday's at 3pm ET.