Paint shoes, not walls.
Celebrating the five year anniversary of its launch, today we pay tribute to a memorable and creative collaborative sneaker project, the Lance Mountain x Nike SB x Air Jordan 1 which released on June 7, 2014.
Back in the 80s, many skateboarders opted to wear the Air Jordan 1 in lieu of other skateboard brands at the time in part due to its superior grip and ability to withstand the frequent pounding at the park.
At the time, skaters sought out sneakers which were lightweight, provided ample ankle protection, excellent traction, and offered comfort and cushioning for hard landings. The Air Jordan 1, a sneaker originally designed and named after the greatest basketball player ever – made the crossover from indoor hardwood courts to outdoor concrete skate parks in part to its versatility and growing urban street appeal.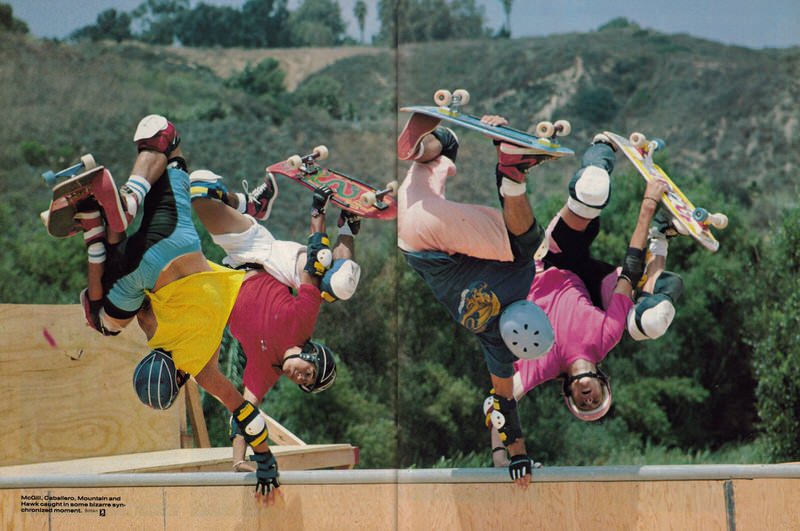 In an effort to extend the life of their sneakers, skaters would often mismatch their sneakers or paint over the original colors in an effort to keep the shoe looking clean and fresh. Over time, with subsequent wear and tear, the newer paint layer would be removed revealing the pair's original colors underneath, an extension of one's style, individuality, and personality.
Nearly 20 years later, in 2014, Jordan Brand collaborated with Lance Mountain of Nike SB with the sole purpose of creating a project which reunited the sporting worlds of basketball and skateboarding, a collaborative, limited-edition sneaker that was literally meant to be worn. A mashup at its core, the sneaker features two of the most coveted Air Jordan 1 colorways – black/red and black/royal – integrating one colorway with the other to create a mismatched set that made Ron Artest's personality and All-Star sneaker rotation jealous. Each pair was then covered in a black or white paint, resulting in two distinct colorways.
The Lance Mountain x Air Jordan 1 officially debuted on June 7, 2014 to much hype and fanfare. Made of premium materials and craftsmanship including a textured leather upper, extra blue and red laces, and contrasting blue/red accents on each shoe, the set allowed the consumer to fully customize their pair to a variety of lace color combinations celebrating individuality and illustrating sneaker art and art that you wear at its finest.
The following year, Jordan Brand paid homage to Lance Mountain with an Air Jordan 1 Mid general release model which debuted in a black/black-white-gym red colorway at a more affordable price point and with greater availability, validating current market sneaker and consumer trends but also affirming the Air Jordan 1's place in sneaker history as a truly dynamic, versatile, timeless silhouette that is both highly appealing and transcendental in nature as well.
Lace up your pair of Lance Mountain Retro 1s, ride the concrete wave, and paint the town and your kicks red. One sneaker at a time.