When Kiah Welsh laced up her first pair of K-Swiss, she felt like she could conquer fifth grade. But when Kiah heads into a Canadian sneaker store, most shoe sizes dwarf her feet.
The most common question a lot of sneakerheads get is, "It's just sneakers, who cares?" But for the young women (and man!) behind the female sneakerhead blog she.lace, sneakers are a microcosm of female representation. Young Torontonians Kiah, Jamila and Travis founded she.lace in 2016 to champion female empowerment in the sneaker world and showcase diverse young women winning in their kicks. We spoke with them to hear their story.
Nice Kicks: How did the three of you meet?
Kiah: We all met in University. I met Jamilah through Travis and I met Travis through classes that we took together.
Nice Kicks: How did the concept of she.lace come about?
Jamila: I would go shopping with Travis and realize that there was a lack of representation on the shelves. We'd go into different boutiques and sneaker stores and just feel like myself as a woman there wasn't represented on the shelves. Through talking, we realized that there isn't a lot of representation of women in the sneaker world. We started off taking pictures with Travis and Kiah and myself and we posted on our personal blogs and we decided to create she.lace. We would create a place to highlight women in different endeavors and use the backdrop of Toronto to highlight Toronto as well.
Nice Kicks: Toronto plays a big part in your blog. How does the city influence your features?
Kiah: Whoever we're featuring for the week, maybe they're a filmmaker or fashion designer, we try to pair the background up with who they are and their story.
Travis: In addition to that, I think it's fair to say that Toronto is now kind of getting onto a stage on the International platform where it's held in the same regard as other cultural hubs that have been, for years on end, identified as cities who push culture forward, push fashion forward. Whether it's your New Yorks or your Parises or your LAs, we were very conscious of that. Right now, a lot of things in art and entertainment here have garnered a lot of attention. We've made an effort to become tourists in our own city and become acquainted or reacquainted with really cool sights and locations that we wanted to utilize and bring attention to.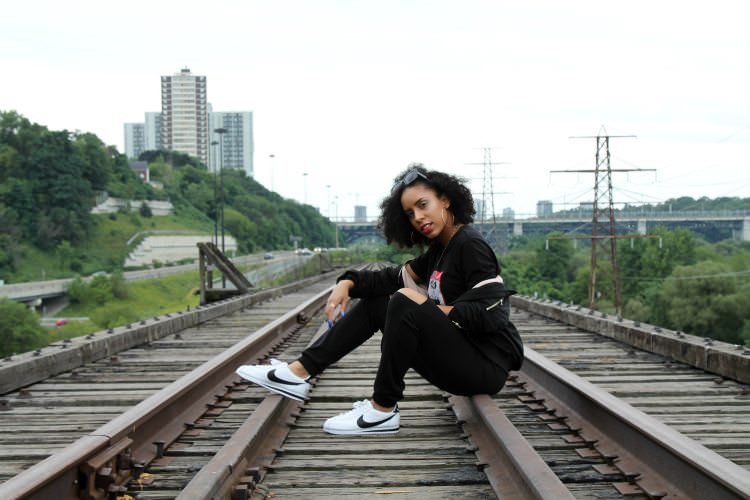 Nice Kicks: Kiah, you mentioned on the blog that your first pair of shoes were K-Swiss. How did your upbringings influence your love for sneakers?
Kiah: I'm not so much of a sneakerhead. For me it's more about how women feel in their sneakers and being empowered in their sneakers. So when I got my first pair of K-Swiss, I felt really powerful. You know how people have their lucky shirts or whatever, that's how I felt about my sneakers. It gave me a push of confidence, and I think that's what we strive to do with she.lace.
Jamila: For me, I've loved sneakers since I was a little girl. Our family used to take trips to Buffalo or somewhere in the States and we used to go purchase sneakers. I think my first pair that I really remember were a pair of Air Griffey sneakers. I loved them. Sneakers for me are a form of expression. I can spice up an outfit, take it up a notch. It can be a basic all-black outfit and the sneakers can just speak for themselves.
Travis: My love for sneakers is deep-rooted. It's the quintessential story of that kid who grew up in a certain socio-economic environment, with certain limitations. Mom could never afford to buy me sneakers and so on. And what I always associated and connected it to was work ethic and ownership. I remember when I was 12, I had to lie about my age to get a paper route and when I started doing the paper route the first thing I bought were sneakers. I don't remember the first pair of sneakers I ever bought, but I do remember the memories attached and associated with that. Even though it was something as seemingly meaningless as a sneaker, it was still something I was able to work towards. For me it was working for something that people around you were vying for and being able to go out and do it yourself.
Nice Kicks: That makes me think of the Wale video for "White Shoes" where a kid saves and saves to buy a pair of Jordans and then gets jumped for them.
Travis: Speaking of that, one of the more memorable pair of shoes I had were a pair of all-red Nike Cortez. The reason I remember that was because I wasn't allowed, for reasons I won't disclose (gang territories), to wear red sneakers in the neighborhood I grew up in. I absolutely adored the sneakers. I remember having to sneak out of my neighborhood and waiting until I was on the bus to school to put them on. I was in grade eight.
Nice Kicks: Toronto is a city of immigrants. How did your cultural background your approach to empowerment and shoes?
Travis: We are all first-generation Canadians. We want to make it explicitly known that it's so much more than sneakers for us. Sneakers are just a conduit. I'm the product of a household that was supported entirely by females, so I think that's really just an immigrant story, broadly speaking, where you have a lot of people such as us who are the product of immigrant households and whose parents have to work and work and work. And a lot of wants have to be sacrificed for needs. Buying sneakers was never really a need; it was never something that took precedence in our household. But what we did see was that ambitious spirit and that work ethic, which speaks to the immigrant experience but also the Torontonian experience. A lot of people you grow up with are first-generation Canadians if not immigrants themselves and it impacts the way we go about writing on she.lace.
Jamila: Living in a household with a mother who is very strong, very independent. My mom came to Canada when she was 18, and was basically on her own. She's been a very inspirational person in my life, a big role model. She's always made me feel like my gender doesn't matter and I can achieve anything I want to achieve. And I just want to be that person who relays that message to other young ladies: don't let your gender stop you from achieving the goals you want to achieve.
Nice Kicks: How do you find the women you feature on your blog?
Kiah: Sometimes they're family and friends, sometimes they're people we meet on social media.
Jamila: OG Smith, they reached out to us through our Instagram. A lot of it's word of mouth too.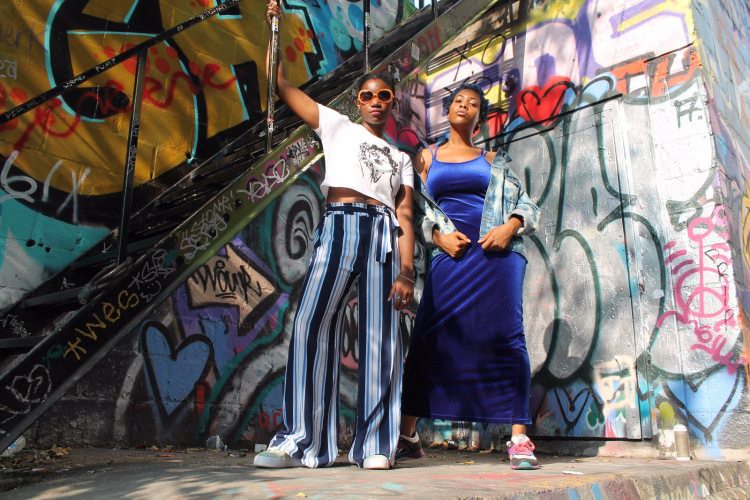 Nice Kicks: Who are some of your favorite female sneakerheads?
Jamila: For me, I'm really liking Aleali May, and her style, it's very '90s. It reminds me of Aaliyah and all the girl groups I grew up on. Also, Melody Ehsani; I love what she does designing for Reebok, and creating her own line of accessories. Also she does a lot of women empowerment work, and that's a big influence for myself and she.lace.
Kiah: I really like Vashtie Kola because it's kind of Afro-Trinidadian and those are my roots, and I can see myself reflected in her.
Travis: I don't have a particular female sneakerhead, but what's really standing out to me right now as a line is Fenty Puma. A lot of times when you see a signature line, irregardless of gender, they'll give an athlete or an influencer a shoe, and say, 'Okay, you can model it.' It's few and far between when you see somebody come out not only with an original shoe, but an original line. With somebody like Rihanna, she resonates with she.lace on a number of levels. Her background is of Caribbean heritage, and though she's not seen as an 'ideal' role model for young women, for us she is exactly that. The line, Fenty Puma, is unapologetically original just like she is. I don't recall ever seeing a platform shoe that was desirable and coveted by both men and women.
Nice Kicks: Sizing wise, what are some brands that are great for female sneakers and pushing the culture forward?
Travis: I don't know if it's just a Canadian thing, because it's all about metrics and we're not as big of a market as you guys down there, but with the Aleali May 1s there was no women's sizing.
Kiah: That's so ironic that even when it's a woman who's designing the shoe, there's nothing available for women. So I thought that was really funny.
Travis: Brands are all doing well marketing towards women, because it's a huge and growing market. Recently just alongside the Aleali May 1s there was the newest editions to the Portwine collection from Nike and marketing was "Force is female." The US does a really good job with their more popular releases in making sure they're inclusive of sizing. The first women's Nike Foamposites coming out this fall is something to be looked at. Finally, in 20+ years, women don't have to look to Youth sizes or the smaller men's sizes for their own Nike Foamposites. That's something I'm looking forward to because I really love Foams.
Kiah: They also had International Girl Crew with the Nike Cortez, so I thought that was a good step forward as well.
Nice Kicks: What's the future of she.lace? Do you have an ultimate goal for where you want to take the blog?
Kiah: We have a bigger picture but we don't want to say for now. But we do want to say that the blog is more of a space for women to tell their stories and show them that there is room for them, you don't have to be ignored.
Jamilah: It's about empowering women, so hopefully in the future doing some kind of events with young girls and stuff, creating that space for women in the sneaker world, and ensuring there is more representation in the sneaker culture. Seeing more women design sneakers as well, like the Air Jordan release with Aleali May. I would like our blog to play a role in that movement.
Travis: Another thing I applaud my cofounders for is that a lot of times the criticism we get is purely based on optics. A lot of people will say, 'It's just about sneakers, there's so many bigger problems in the world.' And yes, I know it's just sneakers and somewhat trivial, but it's important because it's a microcosm of other greater trends that we in society don't really address. I'm first generation Canadian, Caribbean heritage, black male etc. I often think about some of the restrictions that may come with that. But I never really thought about my mother and my sister and my cofounders and the plight they might be in compared to me, because a lot of times you get caught up in your own issues. I say to myself, when it comes to the whole retail therapy thing, at least if all else fails I can go to the mall or any store and buy the sneakers I want. What about my cofounders? They don't have the same amount of options. Even for somebody like myself with socio-economic restrictions, there are people who live right alongside me that have the same struggles and then some. It's an issue that transcends sneakers into women's inclusion.