After Rhuigi Villaseñor founded his Rhude label nearly seven years ago, it wasn't long before it would catch the interest of the celebrity eye, which began after Kendrick Lamar wore one of the brand's bandana print shirts at the 2012 BET Music Awards.
Fast forward to today and he's continued to design an assortment of vintage-inspired collections that just can't seem to stay on the shelves.
Aside from its coveted status and appearing on Kendrick, Rhuigi's clothing entity is also outfitting nearly the entire NBA roster, including LeBron James, Kyle Kuzma, PJ Tucker and Kevin Durant. Branch beyond the hardwood and you'll even find the brand's styles on the likes of Scott Disick, The Weeknd and Justin Bieber.
In addition to designing some of the most coveted collections at the luxury streetwear level, Rhuigi's personal style is a reflection of what the brand puts into the market. Each collection is conceptualized with one of the designer's personal stories that not only gives the brand identity but a timeless image on iconic clothing silhouettes.
While the influence of style is like a revolving door between New York and Los Angeles, most of today's inspiration is being presented from the Golden State where Rhuigi currently resides. In a way, Southern California is an escape from industry trends, as the weather itself calls for different functionality altogether. Just like the region's easy going conditions, Rhugi's own style matches accordingly.
Streetwear's Rhude Rhevolution
Fashion is no longer as polarizing as it was even five years ago. Now it's not exclusively streetwear or luxury essentials that appear in one's wardrobe. It's anything goes and both realms have clashed to fuse standout details from both into their collections. Rhuigi's wardrobe is an exact representation of this progression.
Boxy sweatshirts, traxedo pants, vintage tees and Vans sum up the designer's usual uniform, each of which have sparked certain design details in Rhude's offerings. While creative layering and a variety of apparel styles and fits are everywhere, Rhuigi's everyday style almost wanders in its own direction. In fact, his less is more combinations are almost more creative in themselves.
An example of how he works this motive into his look is teaming a simple pair of cropped trousers with a vintage tee and a long topcoat for a polarizing juxtaposition that's appropriate for California's winter months that dip into the 60s.
Rhuigi initially started incorporating track pants into his collections back in 2013. Now the brand continues to mix up the silhouette with an array of traxedo styles with a cropped fit, making it simple to pair with an array of classic sneaker styles, like Vans Classic Slip-Ons, Old Skools, Rick Owens Geothrashers and Jordan 1s.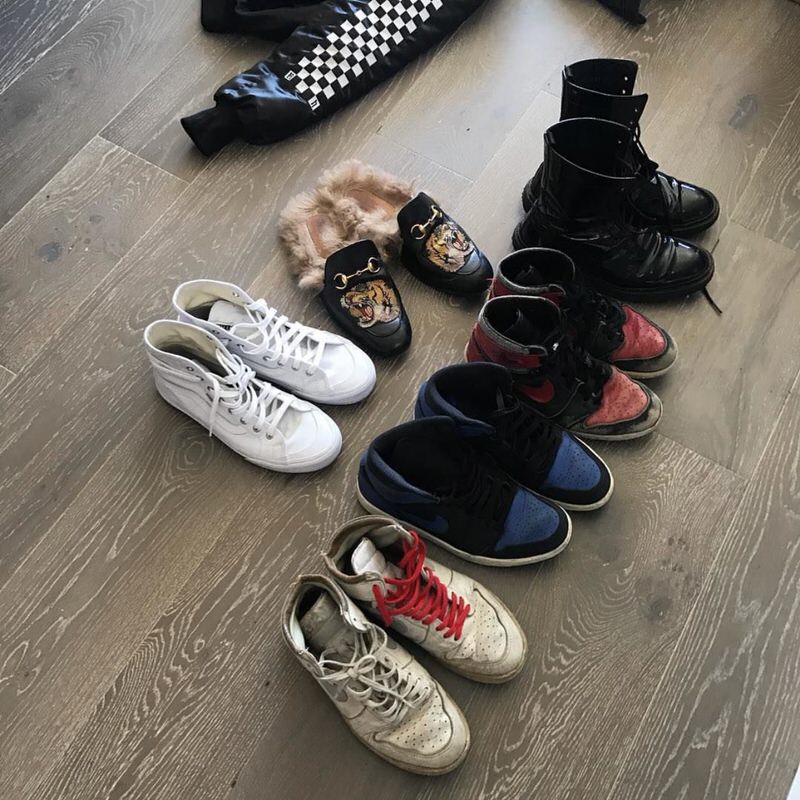 Additionally, the designer is also putting his own spin on Rhude's military jackets, cargo pants and basketball shorts by adding everything from elongated drawcords, nostalgic graphics and some of the finest fabrics around the world.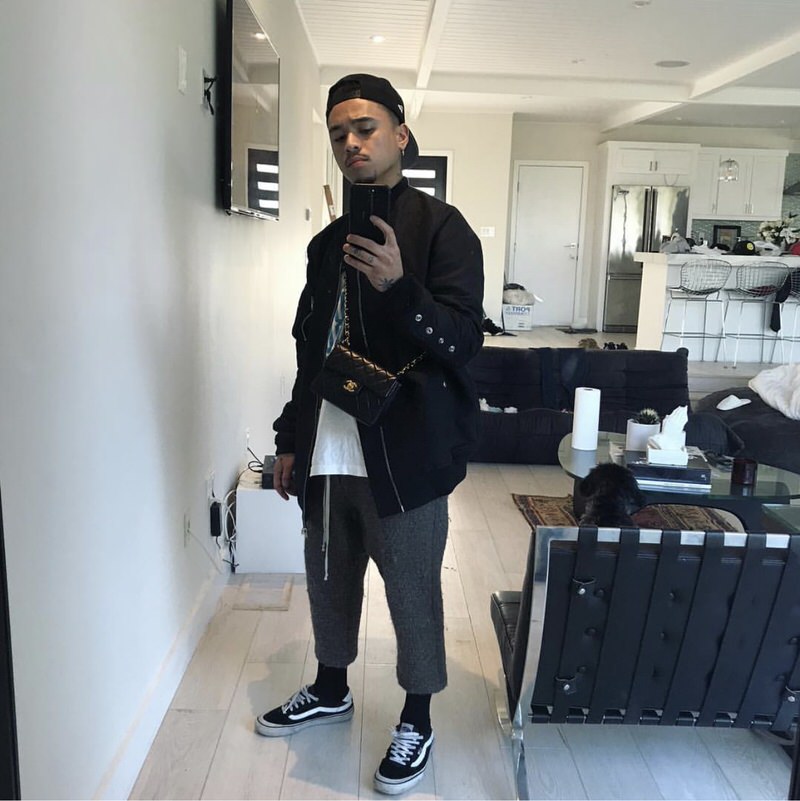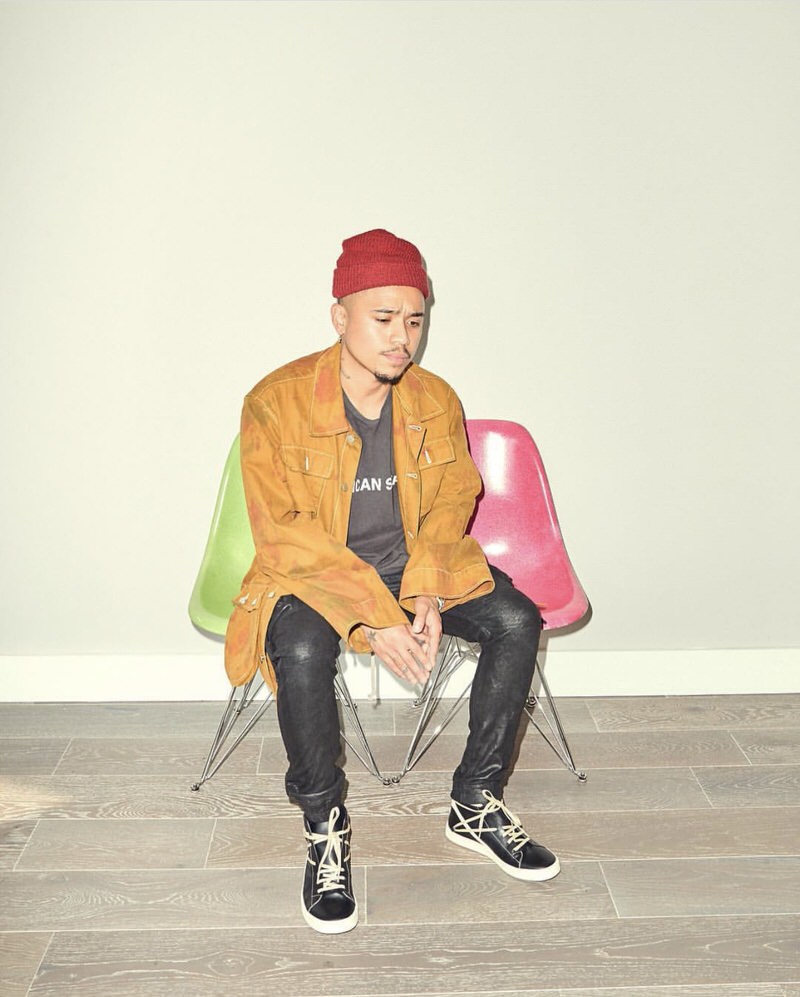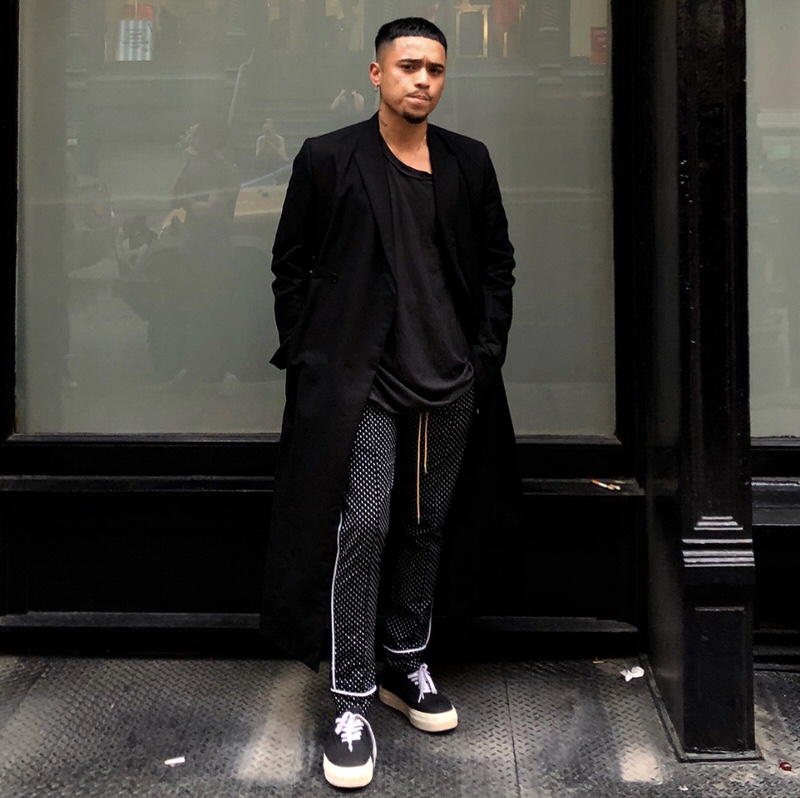 Same Shirt, Different Day
Rhude's streetwear meets luxury collections come ready with a worn-in broken fit that can easily be paired with other lived in aesthetics.
Not only does Rhuigi's entity offer wearable pieces, but they're also timeless, making them easy to work into one's wardrobe years down the road. While Rhuigi himself certainly adopts the uniform look by regularly wearing the same styles, he rarely has to abide by cycling trends because of his wardrobe's everlasting presence.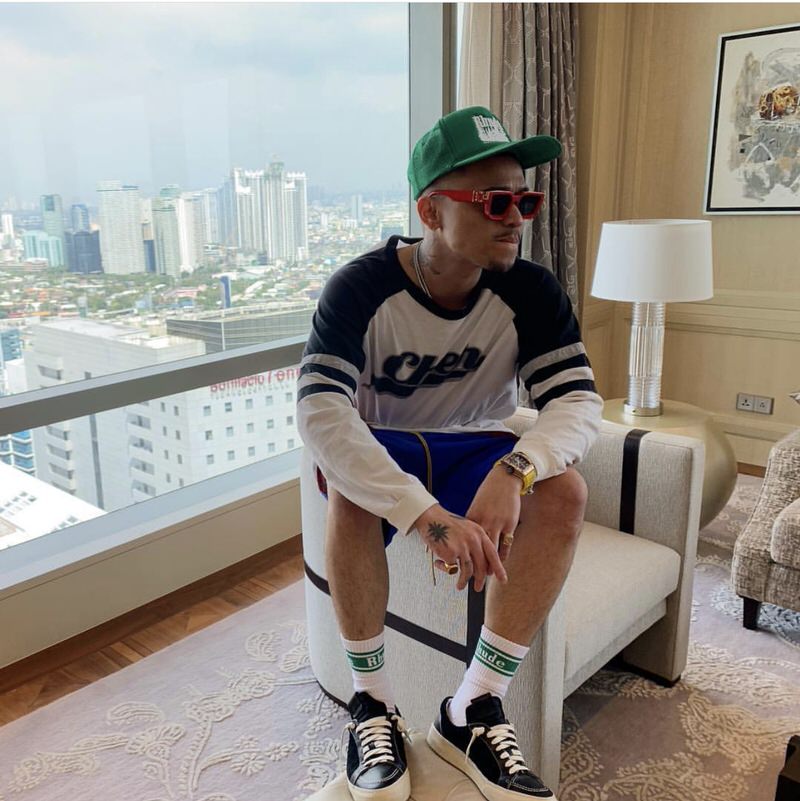 Several months back, Rhuigi quoted on one of his Instagram posts saying, "Same shirt, different day." This mantra couldn't sum up the creative's style any better, signifying that staple essentials never go out of style and have a place in any wardrobe. When you think of California style, most will automatically picture distressed jeans, denim jackets, vintage tees, shorts and a heavy rotation of Vans. All of these exist in Rhuigi's rotation, but Rhude has enabled him to take these classic styles for a contemporary spin.
The designer recently released his V1 Low, which resembles the look of a Sk8-Hi that's been cut down into a low-top design with upgraded material swatches and distressing. After revealing that he also has a high-top rendition on the way, he also unveiled his Recess Hi, which embodies the nostalgia of a retro basketball sneaker with vintage-inspired elements.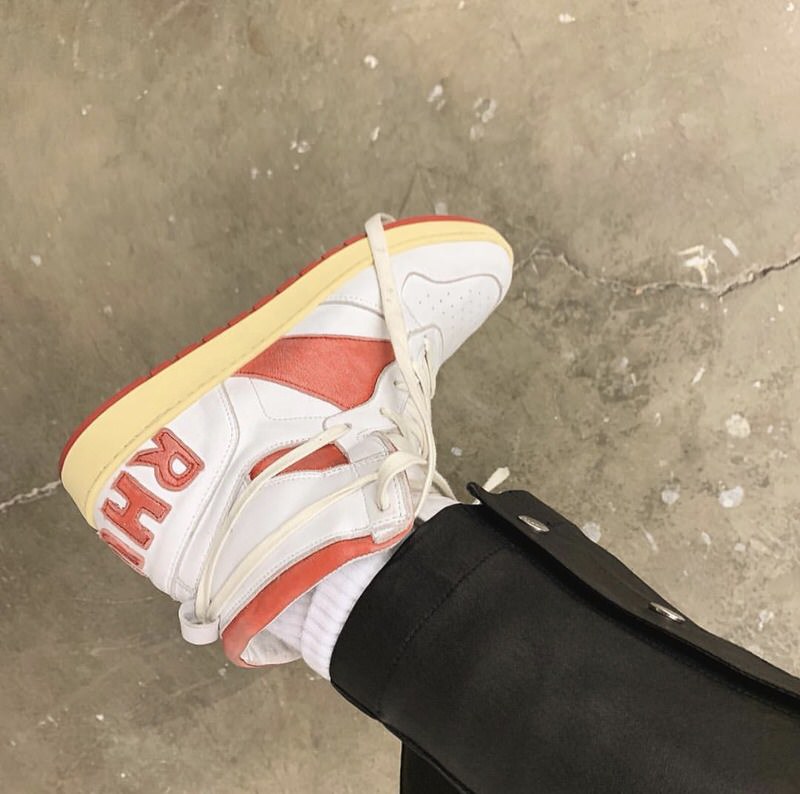 Sneakers like this are the answer to wardrobes across the board because of their timeless aesthetics and versatile color palettes that address both the criteria of minimalists, streetwear enthusiasts and luxury aficionados alike – an idea that few brands have been able to fulfill.