words // Nick DePaula
images // Oklai19
One of the more well received silhouettes from Adidas Basketball this decade has most certainly been the brand's new Crazy BYW X model, a modernized take on some of their iconic Feet You Wear designs of the 90s, all updated with today's knit construction and Boost cushioning.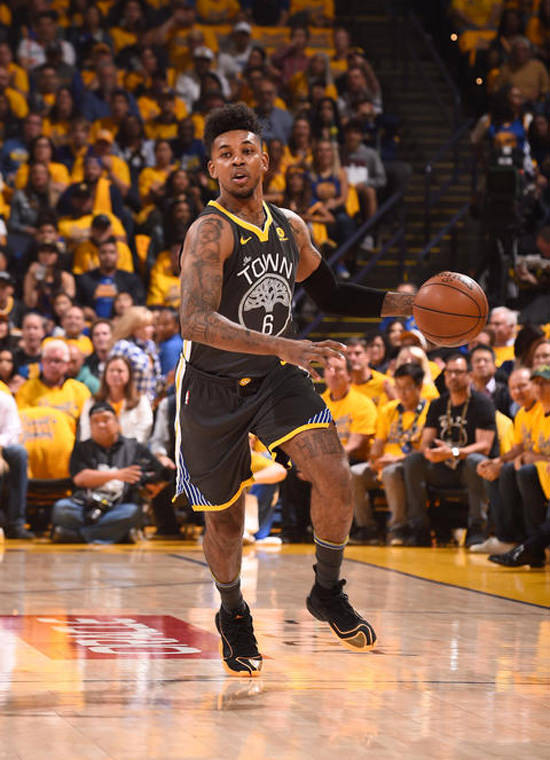 For Nick Young, being a featured athlete and receiving a flurry of his very own player exclusive sneakers was one of the keys to signing on with Adidas in 2015.
Along with his Top Ten 2000, TMac 3 Retro and Pro Model 2000 PEs, we also spotted Swaggy P donning this sharp black and yellow edition of the BYW X this past season.
The shoe typically features a hybrid tongue logo of both Adidas performance and the Adidas Originals logos, with Swaggy's pair instead highlighting his own logo on the tongue and incorporating the dual brand logos along the clear outsole.
You'll also find his streetwear label's name — and his thigh tated mantra — in a repeat "Most Hated" pattern along the sides of the shoe.
"The future of Adidas is on a different level with these," Young said via text after debuting the BYW X way back in December of last season.
Following up a limited launch at the brand's 747 Warehouse St. event space during 2018 All-Star Weekend in Los Angeles in February, you can expect to see Adidas launch the BYW X in variety of colorways later this fall. We'll be sure to keep you posted if these PEs will be among the pairs releasing.
Check out Swaggy P's clean PEs below, and let us and Nick know what you think on Twitter. To dive into every single pair that Young wore throughout the 2017-18 NBA season, be sure to check out Ian Stonebrook's comprehensive year-long recap.