Summer heat got you beat? Well, this Celebrity Sneaker Stalker remains hot.
Going deep, we see OG Air Jordans, Eminem exclusives and unreleased Travis Scott collabs.
Who wore the best fits and kicks? You tell us in the voting poll.
15. Jasmine Thomas
+ Sun Star Jasmine Thomas comfortably owns the high-low matchup
+ The common thread? Vintage up top and LV accessories
14. Lil Nas X
+ Continuing to do things the cowboy way, Lil Nas X ditches his regular dungarees and boots for Pyer Moss and Reebok's quiet but still loud collab
+ Well played
13. Teyana Taylor
+ Teyana Taylor forgoes VVS for CVS in one of the harder and funnier outfits we've seen in a while
+ While laceless Travis Scott Lows and a Fendi cap impress, let's give it up for the Vampire in Brooklyn tee
12. Jordin Canada
+ Jordin Canada tributes the late legend Aaliyah in modern fashion
+ Detroit what!
11. Dev Hynes
+ Dev Hynes debuts the upcoming OAMC x Adidas Collection in outfits he could only pull off
+ Fist bump to those that are still bumping the latest Blood Orange mixtape
10. Sue Bird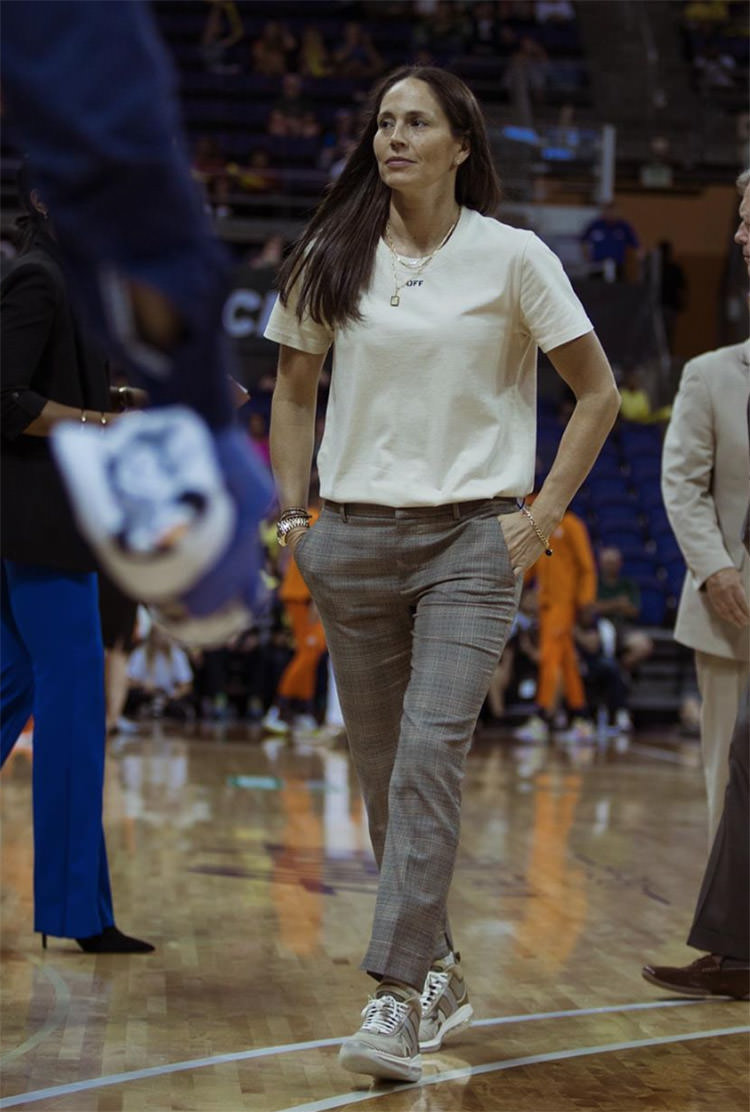 + Sue Bird in shoes that aren't even out yet
+ All hail the Queen
9. ASAP Rocky
+ La Flame is back on the streets and back with the best music video of the year
+ Continuing to reinvent classics, flamed Old Skools have gone out of favor for flamed Chucks
8. DJ Khaled
+ Team early, DJ Khaled debuts the "Knicks" 3s on the VMA red carpet
+ Will you be copping these AJ3s when they drop?
7. Kyle Kuzma
+ Hardly home but always repping, Kuz puts on for the USA and The Lakeshow
+ This guy is legitimately the coolest
6. Victor Cruz
+ Team Vic proved Team Early with the latest CPFM collab
+ Are these better than the VaporMaxes?
5. Drake
+ Known to rock Supreme in surprise fashion, Drizzy pulled out the studded AJ14 collab
+ Still enjoying his chips with the dip
4. Offset
+ Offset is among the first few with the La Flame 6s
+ Maybe more surprising? Pulling out the seldom seen "Steel" 10s
3. J Balvin
+ Fast vehicles and fast food, J Balvin's got these cheeseburgers
+ Not mad at the SBB 1 Lows on foot, either
2. Aleali May
+ How is Aleali not number 1 this week?!?
+ OG 17 Lows might be the wear of the year with the fit to match
1. Travis Scott
+ Feel the burn, La Flame isn't slowing down
+ Rocking unreleased sneakers from two different decades, Travis continues to have the best rotation among his peers
[polldaddy poll=10398196]