words // Nick DePaula:
The best part about sneakers is that everyone can have their own tastes, preferences and style.
The best part about Boost is wearing them.
With that in mind, and to officially wrap up #BoostWeek, the Nice Kicks team all took turns picking out their very favorite Boost-equipped model — no easy task.
Read ahead for each team member's personal pick, and of course, let us know YOUR favorite Boost model in the comments section below.
Darren Griffin // adidas Ultra Boost
When we look back at Boost technology's influence on culture, purchasing patterns and the methodology in which cushioning is designed from here on out, the Ultra Boost will be the shoe to tell that story best.
Adidas made the best running shoe in their brand's history, that also happens to be one of the most stylish shoes of today. I don't think most people realize how difficult it is to make a shoe this good from a performance standpoint, that's also this multifaceted. It's damn near impossible to get both sides of that equation perfect. But they did it, and it's going to pay dividends for a LONG time.
Ian Stonebrook // adidas Pure Boost
Everyone loves the Ultra Boost, and I'm no exception, but to me the Pure Boost is the ultimate in everyday function. Living in Austin, TX, I can wear these to the gym, to run errands in or out to a body of water with no need for socks or even tying them. The Boost hits your foot with no insole, they wash well in the laundry and can be used for running if you actually need to get it in. They're simply too easy.
Ray P // adidas Ultra Boost
Boost literally makes every sneaker better, but my all time favorite silhouette featuring adidas' breakthrough technology is the Ultra Boost — without question. I was all-in before the Kanye co-sign and here's the tweet to prove it on January 22nd at 8am, haha!
https://twitter.com/rayp_photos/status/558296941818150913
Not only is the Ultra Boost comfortable and hella stylish, it was the shoe that really put a spark in my blogging career. Once I wrote how it ruined my taste in other sneakers because all other shoes fail to compare in comfort, so many people reached out with a similar experience. From there I created the hashtag #BoostBoyz, which is a fun way to connect with other people who love Boost. The Creme LTD is my favorite colorway because I haven't seen anything that good looking in the past 10 years of sneakers. And when you put peach laces (made by boostVIBES x Rope Lace Supply) in it, they are certified neck breakers.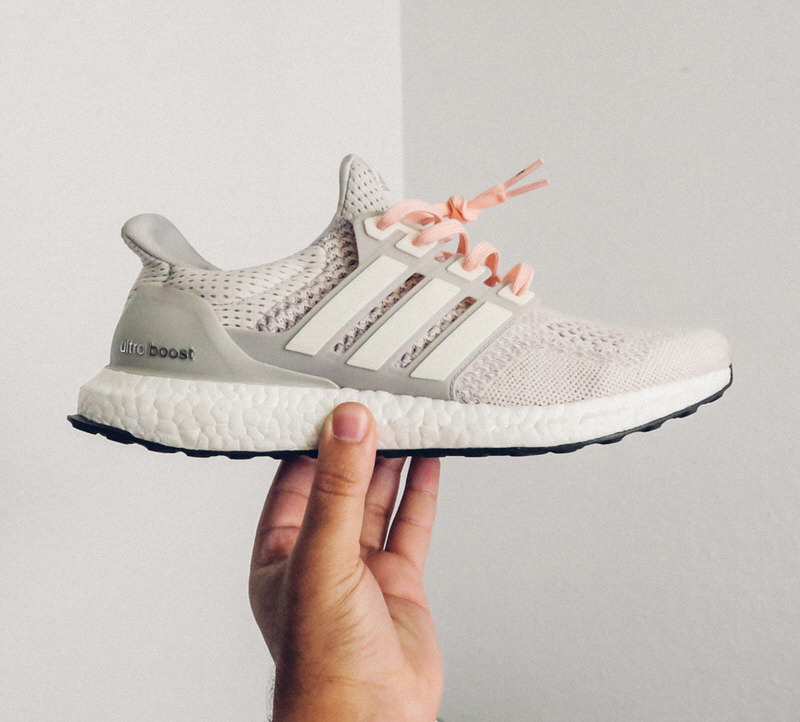 Nick DePaula // adidas Yeezy Boost 350
I didn't want to pick these. I didn't want to be that guy. I wear my black/grey primeknit NMDs from time to time, work out infrequently in my black Pure Boost 2, break out my original uncaged Ultra Boosts here and there, and really do love both the Y-3 QR Boost and Retro Boost. They're all amazing shoes.
But it's that damn Turtle Dove 350 that I just can't take off. Maybe it's the actual sloppiness for everyday kicking around that I like so much. My pair is still factory laced and I like the loose fit, as compared to the Ultra Boost's more targeted performance hug. I don't need all that performance to type for an afternoon in sweatpants work so hard at my craft.
Or, it's probably how cool the top-down view is with the way the midsole grooves protrude out juuust a little too wide. Either way, it's a damn comfy shoe, and while the V1's Boost is housed within the midsole and not exposed from a side view, it was awesome to see the V2's semi-clear midsole update, and consider where the future of the 350 series might head.
Matt Halfhill // adidas NMD
What an incredible year it has been for adidas, adidas Boost, and my shoe of the year — the adidas NMD. To have our very own Nice Kicks NMD collaboration be the second colorway of the model to launch nearly a year ago, it's been amazing to follow along as consumers around the world adopted a model we all felt so strongly about from the start.
It was so great to see this project come to life the way it did with the adidas Consortium team, see the response from people as it launched around the world and start off 2016 with such a bang for the NMD.